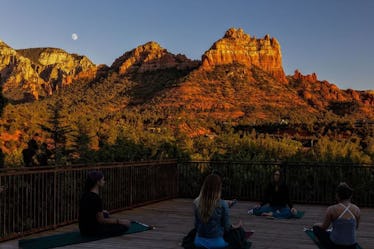 You Can Meditate With The Moon At This Dreamy Hotel & I'm Already Feeling More Zen
There's nothing quite like the mountains and a comfy resort to recharge your soul. In an ideal world, you'd love to spend your days drinking coffee, snuggled up in a bundle of blankets. This routine would be followed by all sorts of wellness routines — from facials and massages, to yoga and meditation. You'd gaze up at the moon and send your worries into the galaxy. (I'm already feeling zen just thinking about it!) Well, guess what? All of your daydreams are waiting for you in Arizona, where you can meditate with the moon at L'Auberge de Sedona, A Destination Hotel. No lucky stars required.
Imagine this: You wake up in the morning to the smell of crisp, fresh air. Then you walk down to breakfast, and spend your afternoon at the spa. You and your bestie booked an excursion to explore the red rock — and from the second you step foot into nature, you're overwhelmed with bliss. The sun creates the most gorgeous golden hour over the mountains, and you head back to your room for a quick nap before meditation. Now bring yourself back to reality, and know that this vision could be real life.
Just a few nights at a wellness resort will leave you refreshed and ready to take on the world. So, don't wait a second longer and get the latest scoop: You can participate in meditation sessions with the moon at L'Auberge de Sedona for an experience that isn't just eye candy; it's soul food. Listen up, and then let the energies of the universe work their magic — with a little bit of help from that circle in the sky.
What's the scoop on the Mindful Moon Meditation series at L'Auberge de Sedona?
Meditating with the moon is as calming and rejuvenating as it sounds — but you should probably know a little bit more before you take your spot on the mat. It's not just an experience for those obsessed with astrology, or avid yogis. Sure, reading your horoscope in the morning or studying your relation to the cosmos might heighten this experience a bit. But, it's absolutely not required for you to get something meaningful and magical out of it.
Essentially, this experience explores lunar energy and all its healing powers, in sessions that take place during the new moons. L'Auberge de Sedona calls these sessions "Mindful Moon Meditation," and each guest can participate in the series and transform their soul.
During every new moon, a virtual refresh button is presented to us. Have you ever harnessed that chance for change and wellness? Probably not, which is why you need to get to Sedona and participate in a session ASAP.
What are the Mindful Moon Meditation sessions you can participate in?
Moon lovers, spiritual seekers, and travelers who are looking for some wellness can all participate in these Mindful Moon Meditation sessions. They are complimentary for guests of the resort, which was rated the number one wellness destination by TripAdvisor. (So you know that you're in for something sweet!)
There are a bunch of sessions within the series, each focusing on another aspect of wellness and holistic health. Once you begin, you will instantly feel the red rock and moon kick into high gear.
The first session is the "Earthing and Grounding Ritual." This part of the series prepares you to connect with the moon and the Earth you're sitting on. You focus on one particular moon theme that's going on that month, and try to center your body and soul. Now you're ready for the "Breathing and Meditation" portion, and to gather more of the universe's energy.
During the breathing section of the series, you're guided through meditation and taught how to breathe with intention. Being aware of the air you bring in and out of your body can really make a big difference. (At least, that's what yoga class has always taught me.)
Next up is "Sound Healing." You may not consider sound when you're thinking about wellness, but it's truly part of calming your soul and finding a center. The resort provides soft drum noises, nature sounds, and crystal bowls. Just like that, you've found a lot of peace of mind within yourself.
Last but not least, the series wraps up with a session called "Write and Reflect." At this point, you're feeling much calmer and centered, and will be asked to reflect on your experience. You've hit the refresh button, and can also look toward the future and set some attainable goals.
When can you participate in a Mindful Moon Meditation session?
The Mindful Moon Meditation sessions happen once every month, around the new moon. So, you and your best friend will want to plan your stay with the resort accordingly.
The next new moon is called the Beaver Moon, and is happening on Nov. 21. This is followed by the Cold Moon on Dec. 20, and the Wolf Moon on Jan. 21.
If you've been following the moon calendar and cycles, then you're aware that it has been quite the year for our circle in the sky. The "cheese wheel" started the year with a Super Blue Blood Moon and has continued to leave us staring in awe. Now more than ever before, you'll want to channel its powerful energy.
How can you be more mindful and include meditation in your everyday life?
Although you're already planning a trip to this wellness resort, you want to get a head start on that mindfulness and meditation. You want to find some peace of mind amongst your busy schedule, and center your focus back onto yourself and what matters most. Where do you even begin?
Well, start with the basics. Use YouTube, or apps like Headspace, to guide you through breathing exercises and the beauty of your mind. Listen intently to your body's movements, and maybe participate in a yoga class, too. (I'm already feeling zen, but that might be the comfy hotel robe.)