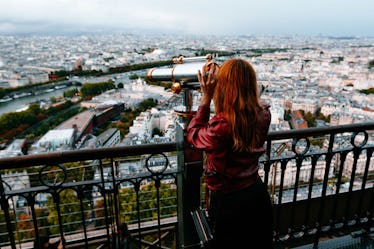 7 Perfect Places To Travel Solo This Fall If You're Still Getting Over A Summer Fling
Like Danny and Sandy sand in Grease, "Summer lovin' happened so fast." One second you were on the beach with your new bae, soaking up the sun and sweet moments of romance. You watched the sunset together, and picked out the constellations in the sky. You took Polaroid pictures and told stories from your days at summer camp. What didn't cross your mind was that this fling might not last forever. Those vacation months came to a close, and you both headed on home or back to school. Now, you need a new adventure in one of the best places to travel alone this fall.
Here's the plan: Put all of that leftover passion into your passport. (You already know that you won't regret it.) Instead of dwelling on your summer fling, go out and discover remote corners of the world. Kiss a cone of strawberry gelato and hold hands with a camera that's quite possibly the best travel buddy you'll ever find. Get the picture?
Truth is, hopping on planes and exploring the planet can be incredibly therapeutic. It reminds you that life is constantly in a state of change, and that there's always something more to see, do, and experience. Sure, you can put on those old Taylor Swift songs and let yourself have a good cry. But then, pack a suitcase and take a solo trip to one of these seven places that will bring a different kind of love into your life.