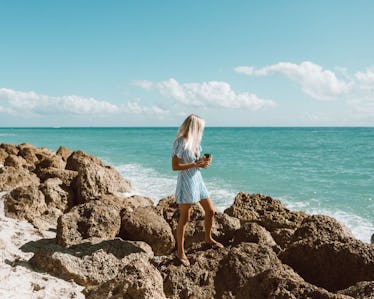 7 Times You Should Be Honest With Yourself During Your Next Vacation
Truth be told, vacation is the best time of the year. Whether you're staying in a sweet resort or eating all the pasta in another country, it's refreshing to change your location and soak up the sun. You put aside your planner or the textbooks that have been weighing you down. The ocean only requires some sunscreen and a bathing suit. (So, trade your stress for good vibes at the gate, as well.) Even the most amazing trips come with a few hiccups, though. During your next vacation, embrace those times you should be honest with yourself, for a week well-spent.
When was the last time you checked in with your gut? From my experience, it tends to know best. Sometimes, you'll forget that it's even there until you get that well-known rush through your stomach. You change your course, or take a leap into the unknown. Later on, you take a sigh of relief and realize your inner compass has never steered your wrong.
So, most of the time, you listen to its advice. Emphasis on "most." There are times when you don't want to swallow the truth and pretend you can't hear what it has to say. You continue to lounge in a beach chair, wallowing over the excursions you want to take, or saying "no" to the next adventure. Take a deep breath, and be a little blunt with yourself. Vacation comes with these seven moments when you need to follow the truth.