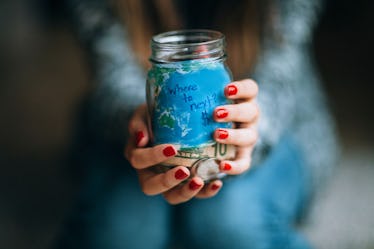 8 Little Ways To Start Saving Up Now For Your Study Abroad Trip
Studying abroad is the adventure of a lifetime. You're living in another country for a few months, and traveling every weekend. You'll be eating fresh pasta, exploring museums, and embarking on excursions with new friends in class. But before you go across the pond, there's a ton of prep work to do. You have to get your visa approved, fill out important paperwork with your university, and make sure you're packing all the right essentials. Please don't forget to take your funds into consideration, too. You have to know how to save money for study abroad, because following your wanderlust won't be cheap. There are a few things you can do now to prepare your bank account for the most amazing semester yet.
Let me tell you: Studying abroad is the best decision I ever made. Living in Florence, Italy, for four months taught me a lot about myself and the world, and I'll always consider that city my second home. My friends and I had the opportunity to see so many places throughout Europe. We'd pack up our suitcases and sit on buses for hours before reaching dreamy destinations like Croatia, the coast of France, and Barcelona. Every getaway was worth the pennies we spent.
You might think this sounds cheesy, but I returned home so much richer in experience. It was an unforgettable experience, and worth spending the summer before keeping my eyes on the prize. I found little ways to save (and make) money in just a few months — and you can, too.