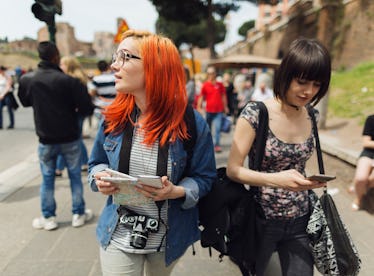 How I Lived My Dream Of Traveling To 55 Countries In Five Years
"How do you travel so much? Who pays for all of your trips? Do you even have a job?" If I had a nickel for every time I heard these questions, I would've bought a private island by now, and you simply wouldn't be reading this article. Whether it's my family at Christmas bringing up the age-old "when are you going to get a job and settle down" talk, or my far-removed "Facebook friends" demanding I explain where I found the lottery ticket that must be paying for my extravagant excursions, I am constantly asked how I traveled to 55 countries in five years.
The answer isn't unbelievable luck or even a big secret. I will let you know how I do it right here. A big part of what I had to learn, while trying to make this traveling lifestyle work, was to trust my intuition. There were plenty of opportunities for me to take a more traditional career path, but I decided to go the more progressive route in order to follow my dream to travel the world.
My story begins in an office 9-5.
I had recently graduated from college, and followed my classmates in applying for jobs I knew would eventually make me, personally, beyond miserable. The next thing I knew, I was sitting in front of a computer screen, my brain separating like the creamer in the lukewarm, half-drank coffee at my desk.
I knew I needed to make changes, and fast. I became absolutely fascinated by travel photography, luxury hotel websites, and would spend my days visualizing jet-setting from one fabulous destination to the next.
After countless hours at my desk, I began manifesting my dream plan.
I knew that, in order to live out my dreams of seeing the world, I needed to target jobs that allowed me the freedom and flexibility to travel. I also had bills to pay.
I landed a freelance position as a community manager for a company that was willing to send me on trips as part of my commission. I had more flexibility, a paycheck, and the opportunity to travel. In addition to being a fit model, I made enough money to quit my full-time job.
I traveled to Greece, Italy, Croatia, the UK, and Sweden while working as a community manager and fit model for private clients. I even got paid to give feedback on samples that were sent to me on the road. But all of that came to a crashing halt.
I didn't let a huge bump in the road steer me off course.
With every dream, there can be roadblocks where you are tested as to whether or not you are willing to fight for the prize. Nothing comes without ambition, hard work, and risk.
Both companies I was working for had changes, and suddenly, I was out of both jobs. Fear, regret, and anxiety filled my stomach like a weighted balloon. All of my job security was gone, instantly. At this point, it would've been so easy to apply for another full-time corporate job — yet I stayed focused and stuck to my dream plan, knowing that I was the happiest possible version of myself when I was seeing the world.
With my meager savings, I put myself through a travel journalism course, mapped out where I wanted to travel, and envisioned how to get myself there. I traveled to France, Lebanon, Spain, Portugal, Russia, and Turkey to build content for my blog. I became a ninja of cheap flights finding airfares using Momondo and Google flights. I collaborated with companies for free hotel stays, in exchange for content. The harder I worked, the more opportunities came my way.
Hold true to yourself, and stay focused on the prize.
I reached out to tourism boards and travel companies for all-expenses-paid trips to Morocco, Botswana, Wales, the Philippines, Bali, South Africa, and Peru. I was traveling where I wanted by taking initiative, in exchange for my blogging.
From beach destinations like the Seychelles and the Maldives, to major cities like Tokyo and Bangkok, the world had no limits to me. I knew I had to see the Northern Lights in Iceland, swim with dolphins in Zanzibar, and skydive the Palm in Dubai. Within five years, my hard work and determination enabled me to travel to a total of 55 countries.
These extraordinary opportunities took time, research, and planning — hours of editing, writing, and following up to make things happen. At the end of the day, they happened because I had a vision, I set goals, and risked it all to live it.
Never get discouraged, because nothing incredible is easy to achieve.
I believe it's important to work hard, and believe in yourself and your dreams. Be aggressive with what you want. Whether your vision is to stay in a palace in the South of France or to never stay in one place for more than a little while, believe in yourself and do what you need to do to make it happen.
Get creative with the funds you need in order to travel.
Whether it's selling your clothes on an app for airfare money, or using the miles you've saved to see the Great Wall of China, your finances or fear should never prevent you from achieving your goal.
The universe conspires with you when you are determined to make something happen for yourself. All it takes is the strength, faith, and dedication to start the process. Take the steps necessary to manifest your dream trip, and the rest will fall in line.
Trust your gut and take risks.
People assume "I come from money" or have a very generous boyfriend when they see how much I've traveled. They never seem to grasp the amount of relentless force and dedication that went behind the lifestyle that I've developed for myself. Yes, it's sometimes stressful, overwhelming, and downright exhausting, but it's exactly what I wanted, which makes me so damn grateful.
When you realize it takes a dream and believing in yourself, taking those very scary steps towards your goal, and never giving up, that is when your dream life has the potential to unfold.