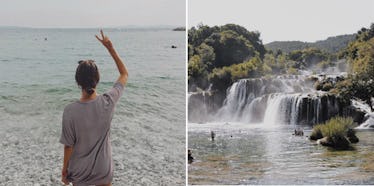 I Unexpectedly Fell In Love With This Country While Studying Abroad & You Will, Too
Take me back to study abroad. That was the semester that changed everything for me, and truly let me fall in love with the world. Before then, I wasn't very interested in spending hours on a bus to get to a waterfall. My comfort zone was well-defined, and my passport only had a few stamps. But, I lived in Florence, Italy for an entire semester, and my wanderlust has been in high gear ever since. When I got home, I kept telling my friends and family the reasons why I fell in love with Croatia. Out of all the weekend trips, that one stuck with me — and it will with you, too.
Eight girls in a hostel, fifteen hours on bus, and what felt like a thousand viewings of Friends With Benefits, was all worth it. We squeezed our backpacks under our seats, and prepared for the long trip ahead. (Let's be honest: Snuggling with a window isn't the most ideal, and takes some happy thoughts.) The plan was to stay for four days, and then get back home just in time for class. Falling in love with a country was the unexpected part.
From the waterfalls, to the pebble beaches tucked into the coast — this place was like a fairytale. It took a lot for me to get back on the bus and head in the opposite direction. If you take a trip to Croatia, you'll fall in love with it for these eight reasons, too.