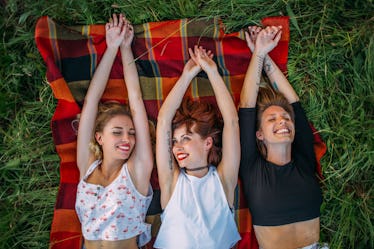 The Best Fall Getaways In The U.S. For Hiking, Pumpkin Spice, & Everything Basic
Apple pie and PSL season is right around the corner, and I'm welcoming it with open arms. It's no wonder why so many people love this beautiful time of year and the activities that come along with it. From hitting up pumpkin patches and farmers' markets with friends, to going apple picking and hiking among the foliage with your pooch, there's always an adventure waiting. Of course, you can't forget about state fairs and winery hopping, too. There really is so much to do and so little time, so start planning your trips to the best fall getaways in the United States. ASAP.
The beginning of the season makes me want to pack a suitcase and hit the road to someplace where the leaves are orange and the weather is crisp — places with giant corn mazes, apple cider, and basic fall fun, like these seven cities around the country. You and your besties need to snap your annual pumpkin patch pic, and you and bae will look so cute when you're walking around a fall festival holding seasonal lattes in your hands. It all sounds dreamy and Instagram-worthy, so don't forget to pack your camera to document your fall adventures. I can't beleaf this time is finally here, and I will make the most of it, because I truly do love fall most of all.