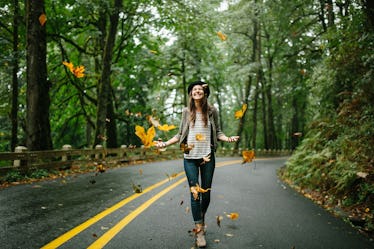 6 Best-Kept Secrets In The U.S. That Are Perfect For Your Fall Foliage Trip
Summer has been great, but let's be real: You love the fall most of all. The air gets cooler, we pull out the flannels, pumpkin becomes the sweet flavor of the season, Halloween is around the corner, and the leaves begin to change from green to orange. This transition from summer is incredible to witness, so you're always excited when the time comes. Certain places have the privilege of experiencing a full-blown fall, where the leaves change to bright colors just before winter. If you want to do some leaf peeping, then you should visit these hidden destinations perfect for a fall foliage trip.
Contrary to popular belief, autumn is the most wonderful time of the year. The weather is absolutely perfect because it's not too hot or too cold. Everyone is in great spirits, because it feels great outside. You finally get the chance to break those cozy sweaters and fall boots out of your closet. Regardless of how basic it may seem to some, you're enjoying all things pumpkin-flavored, and you're excited to head to the pumpkin patch.
Truthfully, fall isn't complete until you get to witness the fall foliage firsthand. It's a natural phenomena to watch the leaves transform into bold, bright colors. Imagine road tripping through these hidden gems to see the magic up close. Happy travels!