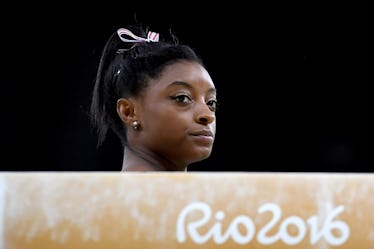 Simone Biles Explained Why She Didn't Go To The Nassar Case & It's So Important
Laurence Griffiths/Getty Images Sport/Getty Images
On Wednesday, Jan. 31, a week after disgraced former USA Gymnastics doctor Larry Nassar was sentenced to up to 175 years in prison on sexual criminal conduct charges, Olympian Simone Biles spoke to the media about her experience both with Nassar and watching the dramatic case unfold in court. Among many other topics discussed over the course of the morning, Biles explained why she didn't testify in Nassar's case. For the 20-year-old gymnastics champion, who came forward as a survivor of Nassar's abuse earlier this month, going to the court just would have been "too much to handle, personally," she told BuzzFeed.
This was especially true as, Biles explained, she has not yet gone through counseling for the abuse. Not to mention, she added, "I was still training, so I couldn't take the time out and go, and I think it would just put too much stress on me."
Biles claimed that Nassar sexually abused her in a social media post on Jan. 15, the day before victim impact statements began at Nassar's trial in Michigan. In her post, she wrote that "it was a lot harder to first speak those words out loud than it is now to put them on paper."
In mid-January, the country watched as over 150 women delivered victim impact statements against Nassar in court. Those delivering statements included Olympic gymnasts Aly Raisman, Jordyn Wieber, Jamie Dantzscher, and McKayla Maroney, who had a statement read on her behalf. This happened because Judge Rosemarie Aquilina decided that she would allow any and all victims who wanted to speak in court to speak, without any time constraints.
Last week, Biles responded to the sentencing in part by praising Aquilina, who was a force to be reckoned with in the court. Biles called her "my hero."
Biles echoed this sentiment on the Today show on Wednesday morning, where she told Hoda Kotb, "The judge is my hero because she gave it to him straight and didn't let him get any power over the girls." That said, there was one thing that Biles wished Aquilina would have done during that sentencing trial.
"I was very happy," Biles said about Aquilina's final sentencing of 40 to 175 years. "I wish she would have just given him a crazy number like 3,000 years or something, but other than that she was a boss and was absolutely amazing."
Biles also spoke about what it took to compete — and so successfully — while dealing with Nassar as a USA Gymnastics doctor. An attorney for gymnast Maggie Nichols claimed that USA Gymnastics and the U.S. Olympic Committee (USOC) tried to keep Nichols from speaking out about the abuse so there wouldn't be a scandal in the headlines around the Rio Olympics, where Biles excelled. According to a USA Gymnastics statement made in response to Nichols' claims, the organization reported Nassar to the FBI in July 2015 and April 2016, and did not attempt to silence victims. Nassar was a doctor for USA Gymnastics until 2015.
Biles told Megyn Kelly on NBC on Wednesday that elite athletes "are very good at compartmentalizing things, so I think we just try to push it in the back of our heads that it didn't happen to us." She explained that her parents gently tried to talk to her about it, but she shut them down.
"I would be angry and I didn't want to talk about it, because I was like, 'no, it couldn't happen to me. There is just no way,'" Biles said. "And then you just come to realize that it has happened, and I think that is when I broke down about it, because nobody wants their daughter — or just even as an individual — to have that happen to them. So, it feels like he took a part of me that I can't get back. So I am still working on that part."
Biles went on to say that what Nassar took away from her is "trust." Still, she said, "it will all come back within time."
It has long been common knowledge that the country puts Olympic gymnasts under an immense amount of pressure at very young ages. If you add systematic sexual abuse to that equation, it makes victories like those of Biles, Raisman, Maroney, Dantzscher, Wieber, and Gabby Douglas all the more super-heroic. And it's all the more devastating because, as Raisman said in her victim impact statement, if "just one adult listened and had the courage and character to act, this tragedy could've been avoided." This case shed a light on the catastrophic results of doubting young women and women's pain.
If there is any justice in this world, the Nassar case will not only put him behind bars, but will also make people in positions of power do a better job of listening and acting on what girls and women say, especially when it's about discomfort. And in addition to that, the case, many of the survivors and Aquilina hope, will empower young women and girls to speak up more loudly about discomfort rather than feel like it has to be ignored and moved past. (Those two outcomes are also linked: if girls think those in power will listen, they'll be more likely to speak out.)
There are still more pending charges against Nassar. He has pleaded guilty to federal child pornography charges, for which he was sentenced to 60 years in jail. He also pleaded guilty to 10 charges of criminal sexual conduct, which were part of January's sentencing. On Wednesday, Jan. 31, another sentencing began for three of the sexual assault charges. Over 250 women and girls have now said that Nassar sexually assaulted them, according to the Lansing State Journal. At least 65 women and girls are expected to speak in this sentencing case.
And while all these social and legal shifts are going on, Biles will continue doing what she's quite literally the best at: competing. Biles is training for the 2020 Tokyo Olympics, she confirmed, and she's coming back with an athletic vengeance. In 2016, her gold medal streak was lost when she slipped in the individual event final for balance beam. Biles still got the bronze for that, but a bronze ain't gold. She told Hoda Kotb on Today on Wednesday that she's out to "hopefully ... redeem a beam title" in 2020. I wouldn't bet against Biles.