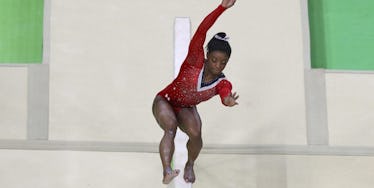 Simone Biles' Tragic Fall Ended Her Gold Medal Streak And Everyone's In Tears
REUTERS
Simone Biles competed in her fourth event at the Olympics in Rio on Monday afternoon.
It ended, tragically, in a bronze medal.
For nearly any other athlete, a bronze would be fine. But this is GOAT Simone Biles we're talking about. She's not competing to medal. She's competing for gold.
In the individual event final for balance beam, Biles fell. It wasn't even what you casual gymnastics fans would call a "fall," but it's a technical fall in the rules world.
During one characteristically difficult jump, Biles stumbled and nearly fell completely off the beam. She stopped herself with her hands, which counts as a "fall" for scoring.
Thanks in large part to that stumble, Biles, for the first time at the Rio Olympics, did not get a gold medal.
That instead went to Sanne Wevers of the Netherlands.
Biles's teammate, the amazing Laurie Hernandez, jumped ahead of Biles for the silver medal.
Biles didn't look particularly bummed as she beamed for Hernandez.
who wouldve thought WAY back then we would be competing in Beam finals together at the Olympics DREAM BIG pic.twitter.com/dSaYBd1YtB — Simone Biles (@Simone_Biles) August 15, 2016
Hernandez had a spectacular performance on the beam on Monday. The 16-year-old from New Jersey made a great appearance, solidified with that silver medal.
As for Biles, winning the bronze was proof to us she is not, in fact, infallible. It's almost a relief, really, to see she can make a mistake just like anyone else.
... But that doesn't mean it didn't totally freak and bum us out.
when your husband has to talk you off the ledge. so much love for @Simone_Biles pic.twitter.com/cALWJudpl8 — Shelby Rice (@shelby_rice_) August 15, 2016
So pleased for Sanne Wevers but how devastating for Simone Biles — ❀emily❀ (@aquata__mermaid) August 15, 2016
Throughout the earth-shattering confusion, though, we found some clarity to keep pushing us through.
How many gymnasts can make it on the podium with a fall? Simone Biles, you are a legend — McKena Thoennes (@thoennes99) August 15, 2016
And overall, one conspiracy theory was definitely true to explain this phenomenon:
This ends Biles's historic push to win five gold medal in one Olympics, but she will be back to compete again in the individual event for the floor exercise along with teammate Aly Raisman on Tuesday.
And just for the record, it may be a bronze, but Biles has medaled in four out of four events she's competed in thus far. We like being dramatic, but no one can seriously deny how incredible she has been in these Olympics games and what a remarkable achievement she has made so far.
Citations: NBC