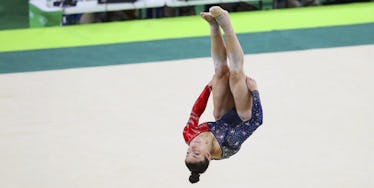 Aly Raisman's Messy Bun Is A Major Clap Back At Gymnastics' Double Standards
REUTERS
Aly Raisman made us all cry when she got her redemption on Thursday night, earning the silver medal in all-around individual gymnastics at the Rio Olympics.
Raisman worked really hard for this incredible achievement, overcoming the haters who told her she was too old and past her peak. She got gold with the team and silver for herself. She is a champion.
But I have to make a confession. Through all of Raisman's flips and spins, I couldn't stop looking at her hair, and I wasn't the only one.
In competition, Raisman consistently wears her long, thick hair in a messy bun held together by a bunch of elastics and clips.
Beauty in gymnastics is an odd factor. These young women are doing insanely strong, athletic movements, but they're still expected to look like princesses.
We saw sparkly eyeshadow, extended cat eyes, smokey eyes, glitter on bodies, glitter on heavily hair-sprayed hair, ponytails, braids and ribbons on the women competing in Rio this week.
Not to mention, the Team USA leotards have 5,000 Swarovski crystals on them.
Meanwhile, as part of competition, female gymnasts have to make their crazy difficult work not just look easy, but look beautiful. Little dance steps are expected in floor exercises, as if shimmies are a vital gymnastic step.
Arguments can be made on all sides about that aspect of gymnastics. Making something look overtly feminine doesn't diminish the power it takes to do what they're doing, although it can make some people (read: assholes) believe it does.
Much like everything else in a woman's life, on top of doing insane flips and feats of strength, gymnasts have to worry about how they look.
Some athletes clearly enjoy the beauty part (in dancing and appearance) more than others, but it's hard to ignore the double standard that male gymnasts aren't expected to dance.
As for styling, the sparkles and embellishments ensure attention is on you. And of course, looking good boosts your self-esteem, which can make you perform better, gymnasts have said.
But there are some gymnasts who are, well, more sparkly than others. Simone Biles, for instance, is known for her love of sparkle.
Biles gleefully posted a selfie on Snapchat on Thursday before the all-around finals. The selfie showed off her dazzling eye makeup. Earlier this year, she told the New Yorker  she likes "lots of crystals" in her outfits.
Throughout competition this week, Biles wore her hair in a perfectly smooth ponytail with a patriotic ribbon.
Raisman, on the other hand, tends to go less sparkly. She's still an incredibly glamorous women -- check her out on the red carpet -- but she doesn't tone it up as high as some of her fellow competitors.
She explained her makeup looks this week on Instagram:
Raisman stays pretty natural with her makeup -- except for the team final, where she America'd it up a little.
Though Raisman may change up her makeup, her bun always remains the same.
It's a little messy but highly contained. It looks a bit like when you throw your hair into a bun while sitting at your desk and kind of mess up lassoing the hair tie around so it bumps out a few times.
While other gymnasts have their hair in perfectly tidy or intricate designs, Raisman's bun is utilitarian. The bun doesn't serve as an embellishment; the bun is what Raisman has to do to compete.
In that way, the Aly bun is like the athlete herself. Raisman is the oldest member of Team USA and is acknowledged as serving a mother-like role to her teammates. Ultimately, she came to Rio with a singular purpose, which she achieved with her redemptive silver medal.
Raisman is not a dancer on the floor, like Biles or Laurie Hernandez. When she does jumps on the beam, they are hard and firm -- beautiful, but not like a ballerina.
And if you think this is at all silly or trivial, you try doing flips with hair all over the place.
The way gymnasts wear their hair is incredibly important to their overall performance. Can you imagine if Raisman's bun came out in the middle of, say, the crazy first pass in her floor routine?
Raisman's bun works. That thing is built for world-class athleticism.
She talked about the bun for an NBC Sports video:
Raisman said,
I don't really put that much effort into it. I kind of just put it into a ponytail and wrap it around.
Raisman then uses a ton of hair spray and clips. She uses at least eight elastic hair ties to keep the bun secure.
In the NBC video, Raisman revealed despite her superhuman athletic ability, she really is just like us. She said,
It's not really the 'I don't care look,' but, like, I don't really know how to do it any better. So that's just the look I go for, I guess.
It doesn't always look pretty, but, like Raisman, it always gets the job done.
[olympics]
Citations: Refinery 29, The New York Times, New Yorker, Allure