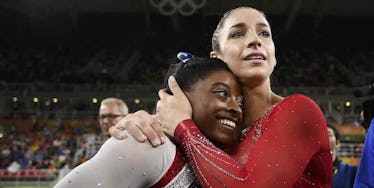 Simone Biles And Aly Raisman Won Gold And Silver And No One Can Stop Crying
REUTERS
American gymnasts Simone Biles and Aly Raisman reacted in the only way possible at the end of the all-around finals at the Rio Olympics on Thursday.
As expected, Biles placed first in the all-around individual competition, meaning she was the best gymnast in all events combined. Although she faltered a bit in the first two cycles with her vault and uneven bar performances, she dominated with her beam and floor routines.
Biles' beam routine was a gorgeous demonstration of incredible athleticism. She is, in many people's opinion, the G.O.A.T.
Biles' win was expected because of her crazy skill ability. The skills she performs are so difficult that she was above her competitors from those starting points alone.
Americans have now won every individual all-around at the Olympics since 2004, with victories by Carly Patterson, Nastia Liukin, Gabby Douglas and now Biles.
Raisman came in fighting. She was a member of the Fierce Five, who won the team all-around in 2012, as well as the Final Five, who won the team all-around this week.
But back in London, Raisman got fourth place in the individual all-around competition by just a couple hundredths of a point. She had tied for third with Aliya Mustafina, from Russia. Raisman lost the medal in a tie-breaker.
This year, Raisman was back for redemption.
And she got it.
Raisman placed second in the all-around individual finals, getting a silver medal all for herself. Mustafina again got bronze.
Seriously, you need to watch Raisman's floor routine if you haven't before. Actually, even if you have watched it before you should watch it again. Her passes are crazy and she stuck every one perfectly during the finals on Thursday.
Raisman broke into tears the moment she finished her floor routine, which was her last event in the finals. It was totally understandable.
Raisman is the oldest member of the American gymnastics team, at 22, and has been serving as a mother of sorts to her younger teammates (as well as, you know, team captain).
Raisman is consistently supportive of her fellow competitors in the arena, and she was there for Biles as they waited for her final score to come in, which would determine who got gold.
The two held hands and hugged while they waited for Biles' last score.
When Biles' score came in, placing her in first, she jumped onto the arena stage and waved to the crowd, blowing kisses as she went.
Biles teared up as she waved at the crowd. After taking a moment for herself, she called Raisman up to join her.
They stood together on the floor holding hands with their arms raised in victory.
I'm not crying, you're crying, shut up!
[olympics]
Citations: New York Times