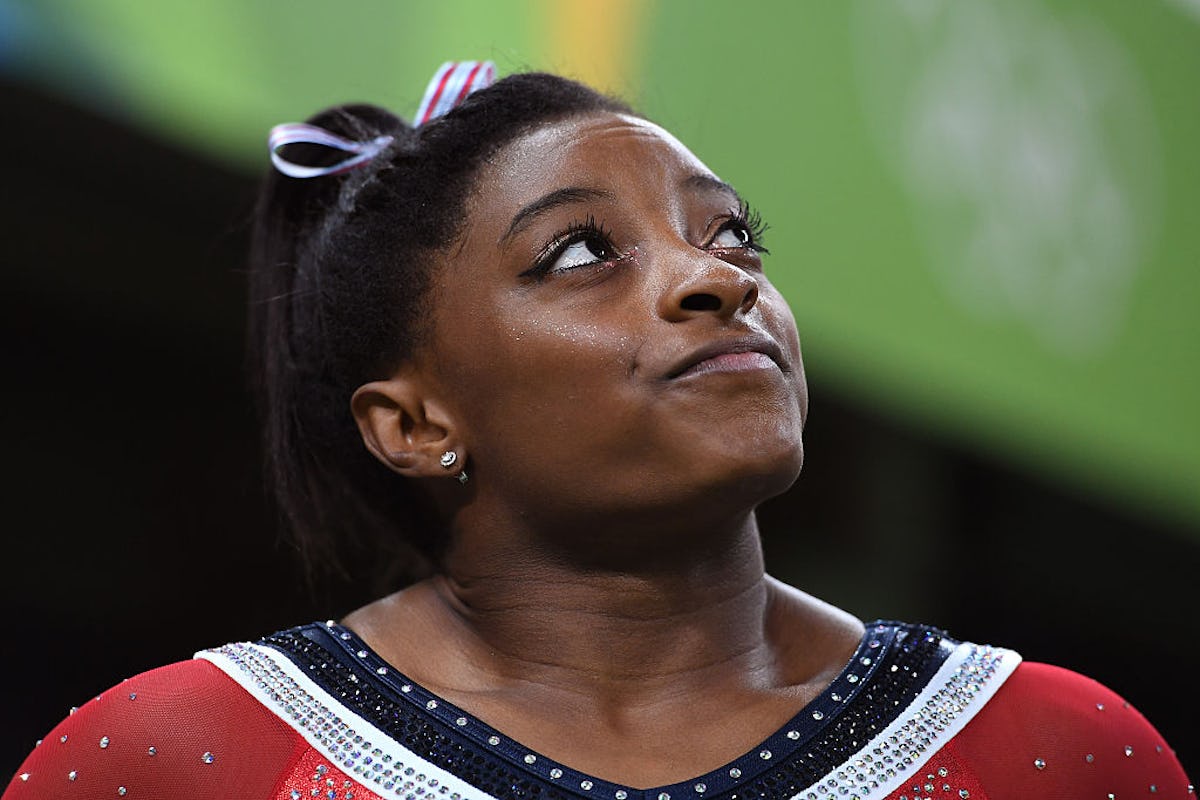 Simone Biles Responded To Nassar's Sentencing & Her Message Is So Important
Laurence Griffiths/Getty Images
On Wednesday, Jan. 24, disgraced former doctor Larry Nassar was sentenced to up to 175 years in prison as over 140 women accused him of abuse. A few hours after the sentencing was announced, Olympic gold medalist Simone Biles responded to Nassar's sentencing with a tweet. Her tweet on Wednesday afternoon addressed a handful of points, all within 280 characters and one image.
The first half of Biles' tweet is about Judge Rosemarie Aquilina, who presided over the sentencing hearing. Nassar pleaded guilty to federal child pornography charges, for which he was sentenced to 60 years in prison. He also pleaded guilty to 10 counts of criminal sexual conduct, which was what January sentencing case was about. Aquilina allowed any and all survivors of Nassar's abuse to deliver victim impact statements in the Michigan court. Over 150 women took her up on that option over the course of seven days. While they spoke, Aquilina offered words of comfort and support.
"Leave your pain here. Go out and do your magnificent things," Aquilina told one survivor.
Biles' tweet included a picture of Aquilina with that quote over it.
"To Judge Aquilina : THANK YOU, YOU ARE MY HERO," Biles wrote to begin her tweet on Wednesday. Biles also retweeted a gif of Aquilina throwing out a letter from Nassar.
That wasn't all that Biles had to say in her reaction to Nassar's sentencing. She also took a moment to write in support of the over 150 women who went to the court to deliver their victim impact statements to Nassar's face. This included her "Final Five" 2016 Olympics teammate Aly Raisman and Olympians Jordyn Wieber and Jamie Dantzscher. McKayla Maroney had a statement read on her behalf.
"Shout out to all of the survivors for being so brave & speaking like the queens that you are while looking at that monster. He will no longer have the power to steal our happiness or joy. I stand with every one of you," Biles wrote on Wednesday, punctuated with a heart emoji.
In an Instagram post on Wednesday with the same picture, Biles wrote, "Although there is not a scripted path to healing. I know it makes me feel relieved that he can no longer hurt any more beautiful souls."
She wrote,
Most of you know me as a happy, giggly, and energetic girl. But lately... I've felt a bit broken and the more I try to shut off the voice in my head the louder it screams. I am not afraid to tell my story anymore.
I too am one of the many survivors that was sexually abused by Larry Nassar. Please believe me when I saw it was a lot harder to first speak those words out loud than it is now to put them on paper.
Although she was not present in the Michigan court, Biles was following the sentencing hearing, her Twitter feed shows.
On Jan. 22, she posted emojis in response to gymnast Bailey Lorencen's impact statement. "Your legacy as Olympians will not go down with the Larry Nassar case. You will not be remembered as the gymnasts who were molested by Larry Nassar, but as the gymnasts who are not only Olympians, but also heroes," Lorencen had said.
Biles tweeted a thank you to Halsey, who had name-checked Biles in a powerful poem she recited at the Women's March.
And after Raisman delivered her incredible statement last week, Biles called her "my hero" in a tweet.
"After hearing the brave stories of my friends and other survivors, I know that this horrific experience does not define me," Biles wrote in her message about Nassar last week. "I won't let one man, and the others that enabled him, to steal my love and joy."