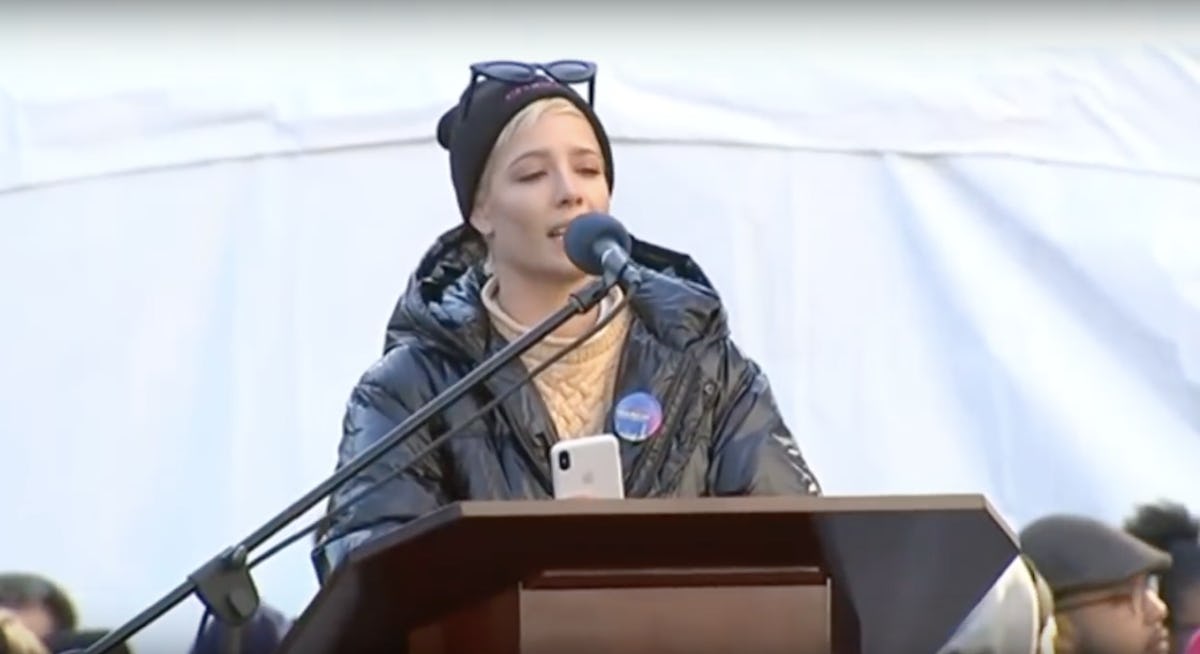 Halsey's Powerful Poem From The Women's March On NYC Is Making Twitter Sob
The Women's March on NYC attracts feminists of all kinds, giving voices to those who care about women's rights. And unsurprisingly, a large percentage of those people happen to be celebrities, because even (some of) the rich and famous support women's rights, too. At this year's march in New York City, popular singer-songwriter, Ashley Nicolette Frangipane, better known as Halsey, read a heart-wrenching poem — and it was so empowering. Based off audience reactions, most people seemed to feel the same exact way. These tweets about Halsey's poem at the Women's March on NYC are total proof that she completely killed it up there.
Like many of us, Halsey fought in solidarity at the Women's March on NYC on Jan. 20, after attending the Women's March on Washington D.C. in 2017. She was asked to do a speech at this year's march in New York, but told the crowd she "doesn't know how to do a speech unless it rhymes." So instead, she read a poem about the reason why she marches for women's rights.
The poem recounts the social and emotional hardships of growing up as a woman. I'd be lying to you if I said it didn't rip my heart out.
In the poem, she starts recalling a memory from when she was 14 years old, sitting with her friend in Planned Parenthood. Her friend had been sexually assaulted and needed a pregnancy test. Obviously, the experience stuck with Halsey.
The singer then jumps to 2002. She recounts when her family moved into a new house, and invited over some family friends. In the poem, Halsey says that the son of her parents' friends offered to "teach her to play the guitar, if she just kept quiet." She continues to recount the painful memories that "will haunt her in her sleep as long as she is alive."
The next memory is from 2012, when she had her first serious boyfriend. He was older, and they lived together. Halsey claims that he guilted her into having sex with him, because he gave her money and paid rent. Based off her poem, she felt obligated to perform sexual acts when she didn't want to. In the poem, she said, "I'm confused that he's hurting me, when he says please."
Her final memory was from just last year, when she says a man that she trusted put his hands her pants. She says, directly implying that he, too, took advantage of her, "I wake up the next morning and there's blood."
She continues to list all of her female friends and heroes, and asks if she's paid her dues in the realm of sexual assault. She says, "I'm supposed to be safe now, I earned it." Halsey proves the harsh reality that nobody is ever safe, and unfortunately, sexual assault is an ongoing problem nationwide.
Everyone "from the hollywood hills to the projects and ghettos is suffering from sexual abuse," she says. Halsey finishes her speech by saying, "that's why we're here, and that's why we rally," and "we are not free, until all of us are free."
Several people in the audience, at the march, and online, tweeted at Halsey following her poem recital. Based on their reactions, it clearly touched the hearts of many.
If you're interested in seeing what other kinds of empowering things are going on at the Women's March on NYC right now, make sure to take a look at all of the photos from the march and the signs from Women's Marches taking place today. You'll seriously wish you were there, to stand in solidarity alongside other strong women and allies.