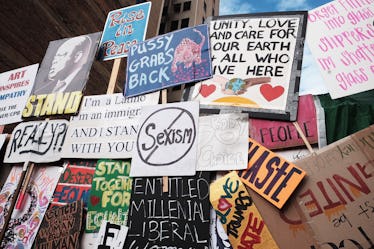 These Badass Signs From The Women's March Will Inspire You To Keep Going
Sarah Morris/Getty Images News/Getty Images
This time last year, Donald Trump had just been sworn in as President of the United States. Many of us were still coming to terms with the results of the election, feeling downtrodden and defeated. Despite our apparent hopelessness, we refused to curl up and hide in the face of our new reality. Instead, on Jan. 21, 2017, millions of people across the world marched to protest the inauguration of a man with a history of making racist, sexist, and Islamophobic statements to the highest office of U.S. government. As we confronted the long road ahead of us, it was comforting to see people across the world participating in the Women's March. This year, millions are marching all over again. Here are some of the most inspiring and heartwarming signs from the 2018 Women's March.
The 2018 Women's March promotes a similar message that we marched for in 2017: A government that aims to divide us based on our skin color, gender identity, religion, or any other criteria is unacceptable. However, while we have made it clear to lawmakers that we will not be silenced, there is still more work to do, especially in the coming months. This year's march theme is "Power to the Polls," which highlights the march's aim to rally people around the political causes that shape elections.
Although the official Women's March takes place on Sunday, Jan. 21, 2018 in Las Vegas, Nevada, marches are happening across the country today. Here are some empowering signs to get you fired up and ready to rock the vote this year.
As previously mentioned, the "official" 2018 Women's March is taking place in Las Vegas, Nevada. So why Las Vegas? The 2018 Women's March will mark the beginning of a voter registration tour. Women's March organizers will visit swing states across the country in order to ensure that everyone is ready to go come Election Day. Nevada itself is considered a swing state, or as organizers are calling it, a "battleground state."
The location of the march is also significant because Rep. Ruben Kihuen, a House Democrat who represents Las Vegas, has faced sexual assault allegations in recent months, which he denies. Las Vegas was also the site of the mass shooting in October that killed 58 people and injured over 500.
In a press release announcing the theme, Co-President of Women's March, Tamika D. Mallory, explained why this message is so important. She said, "In 2018, we must turn our work into action ahead of the midterms. This new initiative will address voter registration and voter suppression head on."
If you didn't know, 468 seats in Congress are up for election in November; 33 in the Senate and 435 in the House, according to Ballotpedia. "Power to the Polls" focuses on continuing the mobilization of people who want to see major changes in congress, with hopes of having better chances of passing progressive legislation.
Although the chaos of the Trump presidency has not died down in any way, shape, or form since the last march, we are beginning to see a shift in the political sphere. According to The New York Times, as of December 2017, the number of female candidates for House and Senate seats are nearly quadruple and double what they were at the same time in 2015.
We've already seen this shift play out in elections, including Doug Jones' Alabama victory, which also took place in December. And of course, in November 2017, Virginia elected Danica Roem to the Virginia House of Delegates. Roem is the first openly transgender candidate to both be elected and serve in a state legislative body. Clearly, progressives are mobilizing, and the Women's March 2018 is helping to keep the momentum.