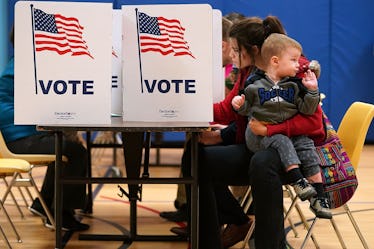 Virginia Just Elected Its First Openly Trans Lawmaker & Everyone Is Celebrating
Chip Somodevilla/Getty Images News/Getty Images
A year after Donald Trump won the election in a surprise victory, a Democratic candidate whose mere existence challenges the values of his administration won a seat in Virginia's House of Delegates. On Nov. 7, an openly transgender candidate unseated a Republican incumbent who served for over two decades, becoming the state's first openly trans elected official. In case you're wondering who is Danica Roem — but are too busy popping a bottle of champagne to celebrate — she's a 33 year-old former journalist who campaigned on fixing traffic. And now, she's one of the few openly transgender elected officials in the country.
Roem's candidacy isn't historic just because she's the first openly trans lawmaker in the state. It's also historic because her now-defeated opponent literally wrote an anti-trans bathroom bill. In 2016, Del. Bob Marshall introduced a bill to restrict trans people from using the restroom that aligned with their gender identity.
Roem's historic candidacy set up a battle between her focus on issues like transportation and infrastructure against her Republican opponent — "self-described "chief homophobe" — Marshall's focus on social issues, namely, Roem's gender identity. Throughout the race Marshall consistently misgendered Roem, calling her by the wrong pronoun.
And the issues were what resonated. Throughout the course of the race, Roem out-fundraised her opponent by a three to one margin, according to The Washington Post.
Marshall wrote in a Facebook post on Tuesday, Nov. 7, that he was proud to have served as a Delegate for 26 years. "Though we all wish tonight would have turned out differently, I am deeply grateful for your support and effort over the years," Marshall wrote. Roem's campaign had not yet released a statement by the time this story was published.
But Roem's victory clearly meant a lot — to everyone.
And the celebration didn't just stop at Roem.
In Minneapolis, Andrea Jenkins, 56, became the first openly trans woman of color elected to the City Council. Jenkins had been a senior policy aide to the outgoing council Vice President Elizabeth Glidden for ten years. She was elected over not one but three other candidates and endorsed by the Star Tribune, which called her "well-equipped to succeed."
Both wins come at a time when the Trump administration has worked to walk back the rights of LGBTQ Americans and undone protections for trans people created by the Obama administration.
In February, the Trump administration rescinded a joint guidance from the Departments of Justice and Education that extended Title IX, the law against gender-based discrimination, to cover trans students. Under the Obama administration, teachers and school staff had been instructed to allow trans students to use the restrooms that aligned with their gender identity, rather than the sex they were assigned at birth.
That was just the beginning. In June, the Trump administration broke again with Obama over Pride month. While the previous administration declared June LGBTQ pride, in 2017 Trump and his administration stayed mum on the issue.
And over the summer, the administration escalated its efforts to walk back the rights of transgender people when President Trump signed a directive in August banning trans folks from serving in the military, a ban that was blocked by a federal court in October.
Roem and Jenkins' victories were hailed as wins for the entire community.
Elections across the country on Nov. 7 proved to be a good night for Democrats. In addition to Roem's win in Virginia, Democratic Lieutenant Gov. Ralph Northam defeated Republican Ed Gillespie in a race for governor widely viewed as a litmus test for GOP efforts to run on Trump's "America first" and anti-immigrant image. Similarly, in New Jersey, Democrat Phil Murphy defeated Republican Kim Guadagno in a governor race that hinged on similar themes. The results were a stark contrast from 2016, when Democrats lost the presidency, many statehouses, and couldn't get their footing in Congress.
While it may not be clear what Tuesday means for 2018's midterm races, Roem and Jenkins' victories open the door for more trans representation in government — and that's definitely a big reason to pop a bottle of bubbly.