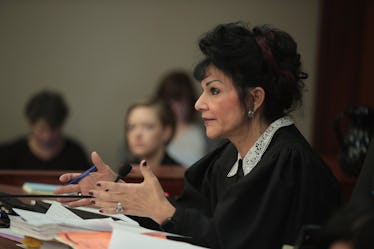 Everyone's Obsessed With This Incredible Moment From The Judge In The Nassar Case
Scott Olson/Getty Images News/Getty Images
On Wednesday, Jan. 24, Judge Rosemarie Aqulina formally sentenced Larry Nassar to 40 to 175 years in prison. This followed a marathon of seven full days of victim impact statements made against the disgraced former athletic doctor, who worked with USA Gymnastics and Michigan State University (MSU). Before delivering the sentence, Aquilina took a moment to address a letter Nassar had written about the case. And by "address," I mean "rip into and ultimately destroy." The video of Judge Aquilina dismissing Nassar's letter demonstrates what a powerful case this was — and what a powerful judge Aquilina is.
Nassar pleaded guilty to federal child pornography charges, for which he was sentenced to 60 years this past fall. Nassar also pleaded guilty to 10 charges of criminal sexual conduct, which is what Wednesday's sentencing was about.
Before announcing the official sentence on Wednesday, Aquilina read excerpts from a letter Nassar had written about the case. He wrote that the federal judge in the child pornography case "went ballistic at sentencing" by giving him 60 years "instead of 5-20 years." Nassar went on to claim that the porn case made him lose "all credibility" leading up to the criminal sexual conduct case. He wrote that he was a "good doctor," citing that his patients came back to him repeatedly (never mind that many survivors said their training made visits with Nassar mandatory).
"The media convinced them that it was wrong and bad," Nassar wrote. "Hell hath no fury like a woman scorned." Aquilina paused as she read that part aloud, and the court audience responded with groans and disbelieving laughter. You can see that just before the fourth minute in the full video below:
The other excerpts Aquilina read included Nassar claiming that the case was all about media attention and "financial reward." At one point, he wrote that he had been "manipulated" by the judicial system.
Aquilina finished reading the excerpts from his letter and promptly tossed it away from her.
As Nassar had appeared to question his own guilty plea in the letter, Aquilina asked him if wanted to withdraw it. Nassar said he did not. "Because you are guilty, aren't you?" Aquilina said. "It was not treatment, what you did. It was not medical." Aquilina called him a danger and said that he does "not deserve to walk outside a prison again."
When she delivered the sentence moments later, Aquilina said it was her "privilege" to do so, just as it was "my honor and privilege to hear these survivors." Announcing the sentence of 40 to 175 years, Aquilina told the 54-year-old, "I just signed your death warrant."
Aquilina has been getting a ton of media attention as the seven-day sentencing hearing went on this past week. In her final comments on the case on Wednesday, Aquilina took time to address the media, noting that, "This story is not about me. It never was about me." She stated that she would not be doing any interviews about this case unless one of the survivors was also part of the interview. She wanted to emphasize that this is about the over 140 women who have accused Nassar of sexual abuse.
Aquilina provided a platform for survivors to speak to Nassar, the court, and the public. As many survivors as wanted to were allowed to deliver statements in Aquilina's Michigan court, and they were not given time limits on their victim impact statements.
"People will listen to you; I've listened to you," Aquilina told Jordyn Wieber last week. "It's really important, because what you're doing is helping to set a new precedent that all victim-survivors should speak out, and that all victims have a right to speak out."