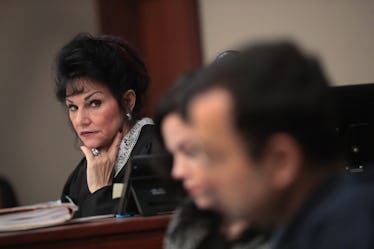 The Nassar Case Victims Are Being Supported By This Compassionate Judge
Scott Olson/Getty Images News/Getty Images
As of Tuesday, Jan. 23, nearly 140 women and girls have publicly given damning statements against former USA Gymnastics doctor Larry Nassar. Over the past few years, Olympic athletes and gymnasts have come forward with allegations that Nassar sexually abused them during medical treatments, all leading up to his sentencing hearing in court that began last week in Michigan. As the victims' emotional accounts have sparked national attention and support, people have been wondering who Judge Rosemarie Aquilina is, the woman overseeing the hearing and ultimately giving the 140 girls and women permission to tell their story loud and clear.
As each woman delivered her statement in court, Aquilina has been there with vocal support, thanking and commending their strength to speak up. Aquilina's incredible compassion was put on display following the emotional statement by Olympic gymnast Jordyn Wieber, who had not previously spoken publicly about Nassar. Aquilina told Wieber, who had tears in her eyes,
You have an Olympian voice. People will listen to you; I've listened to you. You are really very strong, not just as an athlete, but as a woman, as a survivor. I know you'll get past this because of that strength, because you had the strength to come here and talk. It's really important, because what you're doing is helping to set a new precedent that all victim-survivors should speak out, and that all victims have a right to speak out.
... You have already — with what you've done in our community and so many others and in the world — molded so many young minds and people. What you've just done now is equally important — maybe more important — because they will listen to you. They will speak out like you. They want to be you. You have nothing to be ashamed about. I'm so honored that you came to tell your story here today. Thank you.
Aquilina has authored multiple crime novels and served in the Michigan Army National Guard for 20 years, according to The New York Times; she has also been a fierce advocate for the victims coming forward against Nassar. After one young woman gave her personal impact statement, for instance, Aquilina told her, "Leave your pain here, and go out and do your magnificent things."
Nassar pleaded guilty to 10 counts of first-degree sexual criminal conduct, as well as federal child pornography charges. He was sentenced to 60 years in prison for child pornography charges and is facing up to 40 years for the sexual criminal conduct charges in his current hearing.
The impact statements are an opportunity for women and girls to come forward and deliver personal accounts to the judge and Nassar himself about his charges. On Monday, Jan. 22, Aquilina told another woman, referencing back to her days in the National Guard, "The military has not yet come up with fiber as strong as you." She went on to call her a "heroine" and a "superhero" and said, "Thank you so much for being here, and for your strength."
According to The New York Times, court officials had initially expected 88 women to speak at Nassar's hearing last week, but the number has escalated to 158 statements in the courtroom as of Tuesday, Jan. 23. One woman, Whitney Burns, who was counted as the 125th speaker on Tuesday, said she was originally not going to speak out and give a statement, but she said, "hearing the voices of my peers has given me the strength to tell my story."
Aquilina has been present for all 158 statements and has made it very clear that she wants to see Nassar behind bars for the rest of his life. She has been clear in where her sentiments lie in this court. Case in point: Nassar wrote the Michigan judge a letter last week asking her to stop the women and girls from giving any more impact statements because they were "too difficult to listen to." The judge denied fervently his request saying, "You spent thousands of hours perpetrating criminal sexual conduct on minors. Spending four or five days listening to them is significantly minor considering the hours of pleasure you had at their expense and ruining their lives. None of this should come as a surprise to you."
Aquilina opened her courtroom to coaches and parents who would like to give public statements as well, and has given no time constraints on any of the impact statements. That was most evidently seen when USA Olympic gymnast Aly Raisman gave an intensely moving 13-minute statement directed at Nassar.
Some of the parents, including Doug Powell, whose daughter provided an impact statement, thanked Judge Aquilina for the support she has given to the women that have come forward, according to The New York Times. "Judge Aquilina, I applaud you. We applaud you. This room applauds you," Powell said.
The victim impact statements were not expected to last five days, but more and more women have come forward unexpectedly. However, based on Aquilina's attentiveness and proven support, it seems she will keep the hearing going as long as women keep coming forward to speak.