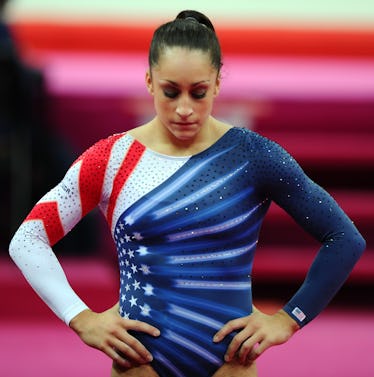 Another 'Fierce Five' Gymnast Spoke About The Abusive Doctor & It's So Heartbreaking
Michael Regan/Getty Images Sport/Getty Images
Dozens of women have been taking the stand this week to face down Larry Nassar, the athletic doctor who pleaded guilty to 10 counts of first-degree sexual criminal conduct in the course of his work for Michigan State University (MSU) and USA Gymnastics. As part of the sentencing process for Nassar, who also pleaded guilty to federal child pornography charges (for which he was sentenced to 60 years in prison), the more than 140 women who accused him of abuse were given the option to deliver a victim impact statement in court. On Friday, Jan. 19, one Olympic gold medalist accepted that option in-person, and the video of Jordyn Wieber's statement about Nassar is incredibly powerful.
This is the first time that Wieber has publicly come forward with claims that she was abused by Nassar. With her statement, she joins her "Fierce Five" teammates Aly Raisman, Gabby Douglas, and McKayla Maroney, who have also claimed that Nassar abused them. The Fierce Five gymnastics team won the team gold medal for the United States at the 2012 London Olympics. (The fifth member of that team is Kyla Ross, who has voiced support for her former teammates.)
In her statement, which you can see in the video below, Wieber spoke about the "grooming techniques" she claims Nassar used on her in order to abuse her, including gaining her and her teammates' trust by presenting himself as caring and helpful.
Wieber first began seeing Nassar when she was eight years old, and claims that when she saw him for a hamstring injury at 14, he began abusing her "time after time, appointment after appointment, convincing me that it was helping my hamstring injury."
"The worst part was that I had no idea that he was sexually abusing me for his own benefit," Wieber, who is now 22 years old, said. "I knew it felt strange, but he was the national team doctor. Who was I to question his treatments — or even more, risk my chance at making the Olympic team or being chosen to compete internationally?"
She said that she spoke with Raisman and Maroney about the "treatment and how uncomfortable it made us feel," but, she said, "none of us really understood it."
Wieber began to cry as she spoke about a shin injury she had while training for the 2012 Olympics, which prevented her from being able to practice certain routines — "ultimately, it made me feel less prepared than I should have been." She did not qualify for the all-around Olympic competition. Wieber said about that time,
Now, I question everything about that injury and the medical attention I received. Was Larry even doing anything to help my pain? Was I getting the proper medical care, or was he only focused on which one of us he was going to prey on next? What was he thinking about when he massaged my sore muscles every day? Now, I question everything.
In her statement, Wieber also took aim at USA Gymnastics, the U.S. Olympic Committee, and MSU for not doing more to protect her and others from years of sexual abuse. She called for "change" to save current and future gymnasts from facing abuse. "Nobody was protecting us from being taken advantage of. Nobody was even concerned whether or not we were being sexually abused. I was not protected, and neither were my teammates," she claimed.
In a statement about the sentencing hearing made on Jan. 16, USA Gymnastics president and CEO Kerry Perry, who took over the role in November 2017 following the March 2017 resignation of Steve Penny, which was linked to this case, said,
Our hearts break for these athletes and we deeply admire their courage and strength in sharing their experiences. USA Gymnastics will keep their words and experiences at the core of everything we do as we remain focused on our highest priority — the safety, health and well-being of our athletes and creating a culture that empowers and supports them.
"Even though I am a victim, I do not and will not live my life as one," Wieber said. "I am an Olympian. Despite being abused, I worked so hard and managed to achieve my goal. But I want everyone — especially the media — to know that despite my athletic achievements, I am one of over 140 women and survivors whose story is important. Our pain is all the same, and our stories are all important."