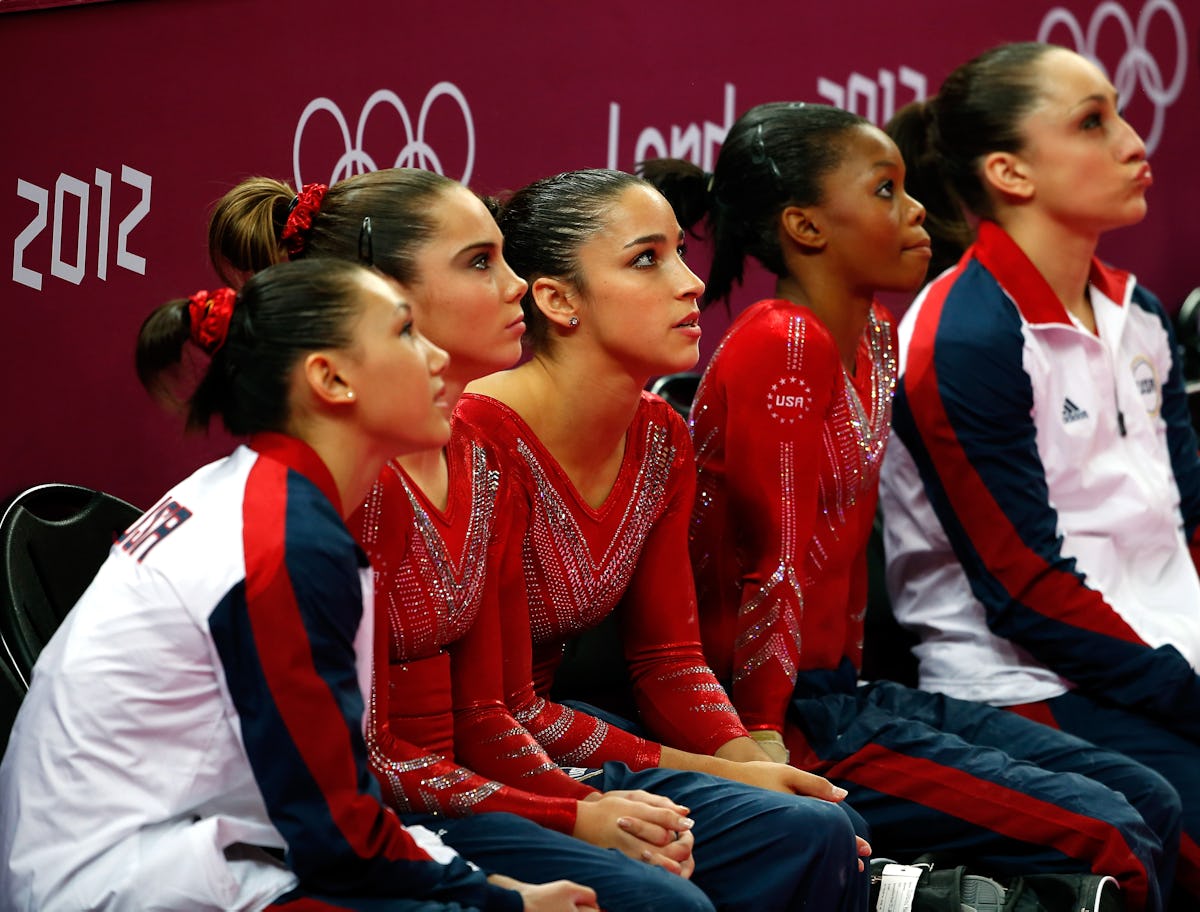 How You Can Support The Women Standing Up To A Gymnastic Doctor's Abuse
Jamie Squire/Getty Images Sport/Getty Images
Throughout the week of Jan. 16, women have been coming forward one by one in a Michigan court to confront Larry Nassar for sexually abusing them. Over 100 women are expected to speak before the end of the week, according to ESPN. This is all part of the sentencing process for Nassar, who pleaded guilty to 10 counts of first-degree sexual criminal conduct. As a doctor for USA Gymnastics and Michigan State University (MSU) for nearly two decades, Nassar was convicted of using his position of power to prey on young women and girls seeking medical treatment while training. Now, those women are getting justice, and as they do so, it's vital that the American public support the survivors of Nassar's abuse.
According to a report published by Alanna Vagianos at the Huffington Post on Jan. 14, the victims do not believe that the public cares about what they have been through or about what they're doing now in court. While other sexual misconduct cases have stopped the nation, there's not as much attention being paid to Nassar's case. This is especially strange in light of how massive the case is. Nassar was accused by 140 women, including top-tier athletes and Olympic champions, within a major sports organization and a university.
"I remember when the Penn State scandal was talked about at length for months and months and even years," plaintiff Morgan McCaul, a dancer, told HuffPost. "This is nearly five times the size and no one knows about it."
The allegations were originally reported in 2016, but they didn't make major national headlines until household names — such as Olympic gymnasts McKayla Maroney and Aly Raisman — came forward publicly with allegations of their own this past fall.
"This is a case of gymnasts and dancers and figure skaters, not football players or basketball players. I think it's sexism, to be honest. There's no other explanation for why this many women have come forward and it's not big news," McCaul told HuffPost.
The young women and girls tried to get someone in authority to hear them as early as 1997, according to The Detroit News. At MSU, there were reportedly allegations made to various university figures in 1997, 1999, 2000, 2004, and 2014. MSU did not fire Nassar until 2016. (MSU spokesperson Jason Cody said in a statement this week that "any suggestion that the university covered up Nassar's horrific conduct is simply false.")
Kyle Stephens, whose family was friends with Nassar, was the first to speak in court this week. In her victim impact statement, she claimed to have not been believed when she told her parents and an MSU clinical psychologist about the molestation in 2004, and the ensuing trauma that caused.
This week, these women were finally given the chance to have their voices heard.
The biggest thing that you can do to support them now is first to listen, and then to amplify their voices. If you are emotionally able to, watch the videos of their statements. Read about the story. And then promote the story: Share it on social media and talk to your friends and classmates about it. Make sure that the people in your circles are aware of what is going on.
It may seem like a small way to support these women after what they have been through, but it's a show of respect for their fight. And just think about the #MeToo movement; when voices become unavoidable, change can happen on both larger, systemic levels and in the details that hugely help survivors.
This was demonstrated with an announcement from USA Gymnastics on Thursday that it would no longer be working with the famed Karolyi Ranch, the training facility where gymnasts went on their way to the Olympics. It was also where abuse occurred, as Simone Biles pointed out in her statement about Nassar earlier this week. She said it "breaks my heart" to remember that, in training for the 2020 Olympics, "I will have to continually return to the same training facility where I was abused." On Tuesday, Raisman called on USA Gymnastics to stop using the Karolyi Ranch. Because they spoke up, and because they were heard and their voices were amplified, survivors no longer have to face that place.
Following Raisman's lead, you can do what you can to put pressure on USA Gymnastics and MSU to be accountable for the abuse that occurred under their watch. On social media and in letters to the organizations, you can call on these organizations to make changes and vow to keep watching to ensure that changes will happen to protect future generations.
You can also send tweets and Instagram comments in support of the individual athletes themselves. They really do see them.
If you want to do something a bit more actionable, you can donate to RAINN, an anti-sexual violence organization.
As you're taking these actions for these women, consider your own community and the survivors you may know. Make sure that they're OK with this in the news. Show compassion in your daily life. If you're in college, learn about your school's adherence to Title IX and demand accountability. If you're in a workplace, ask about human resources and rights when it comes to sexual harassment. Do what you can to make your own space safe from abuse for yourself and others.
But mostly? Just listen. These women have been waiting for so long to have their voices heard. It's the least we can do for them.