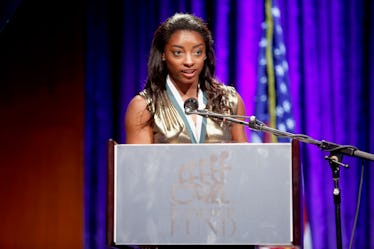 Simone Biles Shares Her #MeToo Story: "I Will Not & Should Not Carry The Guilt"
Thos Robinson/Getty Images Entertainment/Getty Images
In a message posted to her Instagram and Twitter on Monday, Jan. 15, Olympic gold medalist Simone Biles claimed gymnastics doctor Larry Nassar abused her. Biles joins the over 130 women and girls who have accused Nassar of abuse in his capacity as a doctor for USA Gymnastics and at Michigan State University. With this post, Biles is the third member of the Final Five women's gymnastics team — which won the gold medal at the 2016 Summer Olympics for Team USA — to come forward as an alleged victim of Nassar.
Biles wrote in her post that she has "felt a bit broken" lately as she has been holding in her own story. It's with that in mind that she decided to open up on Monday. After claiming to have been sexually abused by Nassar, Biles wrote that it was "a lot harder to first speak those words out loud than it is now to put them on paper." Biles wrote,
For too long I've asked myself, 'Was I too naive? Was it my fault?' I now know the answer to those questions. No. No, it was not my fault. No, I will not and should not carry the guilt that belongs to Larry Nassar, USAG, and others.
You can see her full post here:
Nassar was sentenced to 60 years in federal prison on charges of child pornography in December. He has also pleaded guilty to seven counts of first-degree criminal conduct. On Tuesday, Jan. 16, the victims will give impact statements in court as part of the criminal sentencing process. It is expected that 88 people will provide statements, according to CNN.
Nassar was a doctor for USA Gymnastics from the late 1990s until 2015, when allegations of abuse were made known to the organization. Gymnast Maggie Nichols was identified as the first to bring these allegations up. In a statement on Jan. 9, USA Gymnastics said they admire her "bravery and encourages our athletes and others, like Maggie, to share their personal experiences with abuse. We are sorry that any athlete has been harmed during her or his gymnastics career." The organization further said they "never attempted to hide Nassar's misconduct," saying they took allegations to the FBI.
In addition to Biles, Gabby Douglas and Aly Raisman, her teammates in the Final Five, have come forward in recent months as alleged victims of Nassar. Douglas' message was prompted by public conversations between the teammates. In November, after Douglas posted a tweet that appeared to be victim blaming Raisman, Biles tweeted to Douglas, "honestly seeing this brings me to tears bc as your teammate I expected more from you & to support her." A few days later, Douglas responded with an apology, saying, "I didn't view my comments as victim shaming because I know that no matter what you wear, it NEVER gives anyone the right to harass or abuse you. It would be like saying that because of the leotards we wore, it was our fault that we were abused by Larry Nassar."
Raisman claimed Nassar abused her in an interview in early November. In December, Raisman published her victim statement, which she had not been able to say in court at the time. "Words cannot adequately capture the level of disgust I feel when I think about how this happened. Larry abused his power and the trust I and so many others placed in him, and I am not sure I will ever come to terms with how horribly he manipulated and violated me," she wrote.
In her post, Biles said that she is still working towards the Tokyo 2020 Olympics, and it breaks her heart that "I will have to continually return to the same training facility where I was abused." Biles wrote,
After hearing the brave stories of my friends and other survivors, I know that this horrific experience does not define me. I am much more than this. I am unique, smart, talented, motivated, and passionate. I have promised myself that my story will be much greater than this and I promise all of you that I will never give up.
Biles ended her post with a request for privacy as she works "through the pain." Honestly, it's the least that she can ask for.