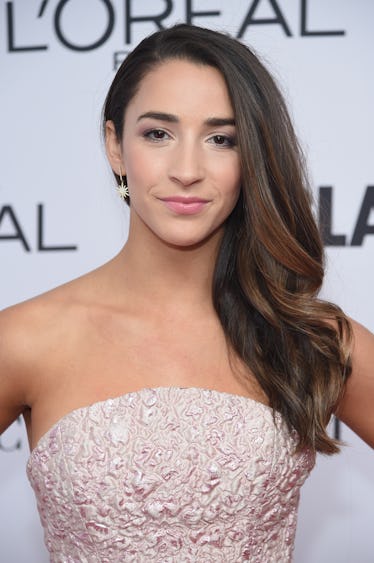 Aly Raisman's Letter To The Gymnastics Doctor Convicted Of Abuse Is So Heartbreaking & Powerful
Jamie McCarthy/Getty Images Entertainment/Getty Images
On Thursday, Dec. 7, former gymnastics doctor Larry Nassar was sentenced to 60 years in federal prison on charges of child pornography. Following this sentencing, Olympic gymnast Aly Raisman released her statement to Nassar. In early November, Raisman said she had been abused by Nassar, starting when she was 15 years old and training. Nassar had been a doctor for USA Gymnastics from the late 1990s until 2015, after allegations of sexual abuse were made known to the organization.
Raisman had initially planned to read her letter to Nassar in person during his sentencing hearing, she wrote for The Players' Tribune. Instead, however, the court moved forward without allowing her to do so. After the sentence was announced on Thursday, Raisman published her letter in full on The Players' Tribune. Her letter begins by stating,
Realizing that you are a victim of sexual abuse is a horrible feeling. Words cannot adequately capture the level of disgust I feel when I think about how this happened. Larry abused his power and the trust I and so many others placed in him, and I am not sure I will ever come to terms with how horribly he manipulated and violated me.
She went on to write that the "effects of his actions are far-reaching, since abuse goes way beyond the moment, often haunting survivors for the rest of their lives, making it difficult for them to trust others, and impacting their relationships." Her letter, which switches perspective to directly address Nassar, goes on to detail the ways in which his abuse impacted her. Raisman wrote that her relationships with her family and friends changed because of Nassar and that her mental health suffered under the trauma. Her physical health suffered, too, after she had a bad reaction to anxiety medication that landed her in the hospital.
Nassar was sentenced on charges of child pornography and has also pleaded guilty to seven counts of first-degree criminal conduct. More than 130 women and girls accused Nassar of sexual abuse committed while he was supposed to be training them as athletes. His accusers include several Olympians — including Raisman, McKayla Maroney, Gabby Douglas, and Jamie Dantzscher. Nassar has admitted to sexually abusing underage girls, according to CNN.
In her letter, Raisman says that Nassar made her trust that he had her best interests at heart, "but you lied to me." She writes that she has "a hard time trusting other people," especially doctors. Raisman wrote that she "avoided certain treatments that gymnasts rely upon, especially during intense Olympic training," such as regular massages, because she was "too afraid."
Raisman also wrote frankly about the trauma of Nassar's abuse, including that she "became almost numb to my feelings" to get through the stress of the Olympics. After that process, she let the feelings in. She wrote,
When I allowed myself to start thinking about what Larry had done, I was overcome by anxiety. I felt like I couldn't breathe, like someone was pushing on my chest and my throat was closing up. I couldn't sleep well because I would have terrible nightmares. I never felt rested.
Although Raisman is "trying now to take back my control," she still has triggers to her anxiety and trauma, especially when she travels.
Additionally, Raisman wrote to Nassar, her relationships with her family and friends were forever changed. She has spent considerable time addressing the abuse with her parents, but it's a painful process. These discussions have also impacted her younger sisters, who are in high school. "Abuse impacts the whole family," Raisman wrote. She added that one of her best friends was "also a victim of Larry — or a survivor, as I prefer to say," and their relationship has been hurt because of the shared abuse. Raisman wrote,
I remind her too much of what Larry did to us, and our friendship has suffered. Abuse isn't something you can just bring up with anyone, and I often wonder if I ever will find anyone like her who gets me so well and knows just what to say to make me feel better.
Ultimately in her letter, Raisman turns attention back to the ways in which the system failed these dozens of young women and girls. Over the past few months, the Olympian has regularly pointed towards USA Gymnastics and their failure to prevent Nassar's abuse. She claimed in the letter that survivors came forward, but the institution "protected this monster." USA Gymnastics said in a statement to 60 Minutes last month that they are "very sorry that any athlete has been harmed" and that they are making policy changes to prevent potential future abuse.
Raisman wrote in her letter,
Shame on all those who actively protected Larry and shame on all those who looked the other way. Those who looked the other way are just as guilty. And shame on you, Larry, you are the worst example of humanity.
Raisman concluded her letter by calling for "the strongest possible sentence" for Nassar (as this letter was supposed to be read during his sentencing hearing) and by stating that she hopes sharing her story "can help other survivors feel less alone, less isolated, and encourage them to speak up and to get help."