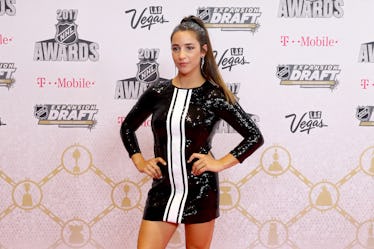 Aly Raisman Claims Gymnastics Doctor Abused Her & Her Message Is So Important
Bruce Bennett/Getty Images Entertainment/Getty Images
In an interview with 60 Minutes that is being aired on Sunday, Nov. 12, Olympic gymnast Aly Raisman claims gymnastics doctor Larry Nassar sexually abused her. This is the first time Raisman has publicly spoken about her personal experience with Nassar, although she has spoken about the allegations around him in the past. She wrote about what allegedly happened to her in her upcoming book Fierce: How Competing for Myself Changed Everything, according to CBS. The book is being released on Nov. 14.
Raisman, who is now 23, told 60 Minutes that she was 15 when she was initially treated by Nassar. She said that she spoke with FBI investigators about him following the Rio Olympics in 2016. Nassar was a doctor for USA Gymnastics and worked with the women's national teams from the late 1990s until 2015, when allegations of sexual abuse were made known to USA Gymnastics. Nassar has been legally accused of sexual assault by more than 130 women and girls. He faces 22 counts of first-degree criminal sexual conduct with the possibility of life in prison, according to ESPN. He pleaded not guilty to sexual assault charges and has denied ever having "inappropriate contact" with gymnasts, according to CBS. Earlier this year, Nassar pleaded guilty to federal child pornography charges.
In her interview with 60 Minutes, Raisman sent an important message about blame in sexual assault cases. Since the allegations against Nassar surfaced, Raisman said, questions have come up about why the women and girls didn't come forward sooner.
"Why are we looking at why didn't the girls speak up?" Raisman said. "Why not look at what about the culture? What did USA Gymnastics do, and Larry Nassar do, to manipulate these girls so much that they are so afraid to speak up?"
She went on to say that she is "angry" and "really upset" about the situation, which is exacerbated because of her young, female fanbase. "Every time I look at [a young female fan], every time I see them smiling, I just think— I just want to create change so that they never, ever have to go through this," Raisman told 60 Minutes.
USA Gymnastics said in a statement to 60 Minutes that the organization has made changes since learning of the Nassar allegations, including adopting a "safe sport policy" requiring "mandatory reporting" of possible sexual abuse. The "safe sport policy" also includes requirements that "prevent inappropriate interaction" between athletes and adults. "USA Gymnastics is very sorry that any athlete has been harmed," the statement says, adding that "we want to work with Aly and all interested athletes to keep athletes safe."
Although this is the first time she has claimed to have personally been abused by Nassar, this is not the first time Raisman has expressed anger at the way USA Gymnastics handled allegations against him. In August 2017, Raisman called out the organization for not yet saying "This is horrible, this is what we're doing to change." She criticized USA Gymnastics for giving a $1 million severance package to then-president Steve Penny, who resigned in March under pressure from the rising allegations, instead of using that money to create a program to help the athletes who had been affected, emphasizing that it doesn't matter if those affected were Olympians or young trainees.
"Whether or not he did it to a gymnast, they still knew him," Raisman said in August. "Even if he didn't do it to you, it's still the trauma and the anxiety of wondering what could have happened. I think that needs to be addressed. These girls, they should be comfortable going to USA Gymnastics and saying 'I need help, I want therapy. I need this.'"
Raisman is the third Olympian to publicly come forward with allegations against Nassar. Last month, McKalyla Maroney posted a #MeToo status claiming Nassar abused her for years. Jamie Dantzscher, who won the bronze for team competition in 2000, testified in Congress this year about allegedly being molested by Nassar as a teenager.