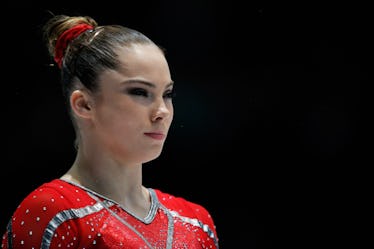 McKayla Maroney Claims She Was Molested By Gymnastics Doctor In #MeToo Story
Dean Mouhtaropoulos/Getty Images Sport/Getty Images
Since Sunday, Oct. 15, women across the country have been sharing their #MeToo stories about instances of sexual assault and harassment. Two-time Olympic medalist McKayla Maroney is the latest prominent figure to join in the sharing. On Wednesday, Oct. 18, Maroney claimed USA Gymnastics doctor Larry Nassar molested her. She shared a screenshot of her story to her Twitter account, captioned simply with #MeToo.
Maroney said in her post that other women's stories "have been so inspiring" to her, especially because she knows "how hard it is to speak publicly about something so horrible, and so personal, because it's happened to me too." She goes on to say she's telling this story so that people "know that this is not just happening in Hollywood." She wrote,
Wherever there is a position of power, there seems to be potential for abuse. I had a dream to go to the Olympics, and the things that I had to endure to get there, were unnecessary, and disgusting.
Maroney goes on to allege that she was molested by Nassar. Nassar was a doctor for the U.S. Women's National Gymnastics Team from the late 1990s until 2015, when allegations of sexual abuse were made known to USA Gymnastics and he was "relieved ... of his duties." He has been accused of sexual assault by more than 100 girls and women whom he was supposed to be treating. Elite Daily reached out to Nassar's attorney for comment on Maroney's allegation, but did not hear back at time of publication. Earlier this year, Nassar was charged with sexually assaulting dozens of women and girls, according to HuffPost, over a 20-year period. He faces 22 counts of first-degree criminal sexual conduct, with the possibility of life in prison, according to ESPN. In August, attorneys representing the 125 women suing Nassar agreed to mediation, so the case may end up in a settlement. He also plead guilty to federal child pornography charges and will be sentenced for that on Nov. 27.
Maroney had not previously come forward with this allegation, and it's not known if she was included in the lawsuits. She wrote on Twitter on Wednesday, Oct. 18, (and this can be triggering),
It started when I was 13 years old, at one of my first National Team training camps, in Texas, and it didn't end until I left the sport. It seemed whenever and wherever this man could find the chance, I was "treated." It happened in London before my team and I won the gold medal, and it happened before I won my Silver. For me, the scariest night of my life happened when I was 15 years old. I had flown all day and night with the team to get to Tokyo. He'd given me a sleeping pill for the flight, and the next thing I know, I was all alone with him in his hotel room getting a "treatment." I though I was going to die that night.
Maroney goes on to say that she knows the Olympics are an inspiring event, because they were exactly that for her. But she adds that the chance to compete for her country didn't come "without a price" attached. She wrote,
Sure, from the outside looking in, it's an amazing story. I did it. I got there, but not without a price.
She adds her own thoughts on how to change the rape culture that allows for this ongoing abuse, suggesting four steps. First, Maroney says people should speak out and bring awareness. Second, "People, Institutions, Organizations, especially those in positions of power, etc. need to be held accountable for their inappropriate actions and behavior." Third, Maroney suggests education and prevention on abuse, and fourth, there should be "zero tolerance for abusers and those who protect them."
Maroney won a gold medal with the "Fierce Five" in the team competition and a silver medal in vault during the 2012 Summer Olympics. She stopped competing in February 2016 following knee surgery and health complications.
Maroney is the second Olympian to publicly come forward with allegations against Nassar. The other is Jamie Dantzscher, who won the bronze medal for the team competition during the 2000 Summer Olympics. She testified in Congress this year about being molested by Nassar as a teenager.