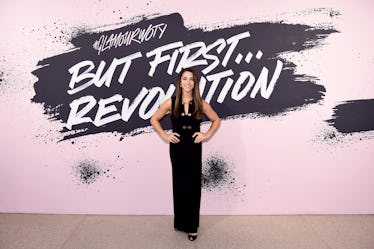 Aly Raisman's Response To The USA Gymnastics Doctors' Guilty Plea Is So Important
Ilya S. Savenok/Getty Images Entertainment/Getty Images
On Wednesday, Nov. 22, at the Ingham County Circuit Court in Michigan, former USA Gymnastics doctor Larry Nassar pleaded guilty to seven counts of first-degree criminal sexual conduct, The Detroit News reports. Over 130 women and girls accused Nassar of sexual abuse while he was supposed to be treating them, including several Olympic gymnasts. One of those women, two-time Olympian Aly Raisman, responded to Nassar's guilty plea with a demand for answers from the system of USA Gymnastics for allowing this ongoing abuse to happen.
"For all those involved, I'm so horribly sorry that this was like a match that turned into a forest fire out of control," Nassar said in a statement to the court on Wednesday, according to CNN. "We need to move forward in a sense of growth and healing and I pray [for] that."
Raisman came forward to accuse Nassar in a 60 Minutes interview that aired on Nov. 12. She said that she was 15 when she was first treated by Nassar, who worked with the women's national teams from the late 1990s until 2015, when allegations of sexual abuse were made known to USA Gymnastics. USA Gymnastics said in a statement to 60 Minutes that they are "very sorry any athlete has been harmed" and that they "want to work with Aly and all interested athletes to keep athletes safe." The statement adds that the organization is making changes, including adopting a "safe sport policy" that requires "mandatory reporting" of suspicions of sexual abuse.
In a statement posted to Twitter on Wednesday, Raisman said that "it is about time that Larry plead guilty and owned up to his action." The majority of her statement, however, focuses on "the flaws in the system that allowed this to happen in the first place — and enabled it to continue for decades."
"I am beyond disgusted that a decorated Olympic and USA Gymnastics doctor was able to prey upon so many over such a long period of time," she wrote. Raisman added, "we need more than optimistic assurances, we need answers." Her response calls for "a hard, honest look at the sport's culture, governance, and leadership, so we can understand the problem, and come up with solutions that will make the sport safer for current and future generations."
Raisman's public statements about Nassar have consistently turned the spotlight on the system and culture. In her interview with 60 Minutes, for instance, she asked, "What did USA Gymnastics do, and Larry Nassar do, to manipulate these girls so much that they are so afraid to speak up?" Likewise, in August 2017, Raisman called out USA Gymnastics for not doing enough to address the abuse allegations.
Raisman's mother, Lynn, has also been outspoken on the issue. In August, Lynn Raisman said the organization must "get rid of the people who knew and looked the other way," according to The Guardian.
Lynn and Aly Raisman did not hold back their rage while following Nassar's court appearance on Wednesday, Nov. 22. Aly tweeted that she was "DISGUSTED" that the court referred to Nassar using the "doctor" title. "Larry is a MONSTER not a doctor," she wrote. Lynn, meanwhile, took offense at Nassar's court statement, where he said he has "no animosity toward anyone" and only wants "healing." "F*ck you," Lynn wrote in response to that.
In response to her daughter's statement calling for system-wide changes on Wednesday, Lynn Raisman tweeted that she is "waiting for all of Larry's many enablers to admit their guilt as well."
Raisman's call for sweeping investigations of both the culture and system within gymnastics is a vital message to send. It's a culture that can allow abuse to continue, whether by enabling a known abuser or not creating a safe enough atmosphere for victims to feel comfortable coming forward. Given the dozens of girls and women who have accused Nassar of abuse over decades, it's worth asking what factors allowed this to happen, and it's clear that changes need to be made to prevent something like this from happening again.
Raisman is one of three members of the Fierce Five — the gold-medal winning women's gymnastics team from the 2012 London Olympics — to come forward alleging abuse by Nassar. McKayla Maroney claimed that she was molested by Nassar in a #MeToo post on Oct. 18, adding that "wherever there is a position of power, there seems to be potential for abuse." Gabby Douglas wrote that she was abused by Nassar in a post on Nov. 21.
"I am determined to work towards real and meaningful change," Raisman wrote in her post on Wednesday. "Abuse is never ok; ONE TIME IS TOO MANY AND ONE PERSON IS TOO MANY."