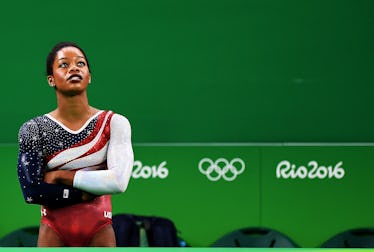 Gabby Douglas Claims Gymnastics Doctor Abused Her, Too, In Apology Note To Teammates
Laurence Griffiths/Getty Images Sport/Getty Images
In an apology note to her teammates and fans posted on Instagram on Tuesday, Nov. 21, Olympian Gabby Douglas claimed gymnastics doctor Larry Nassar abused her. She is the third member of the Fierce Five — the U.S. women's gymnastics teams from the 2012 games — to come forward with public allegations against Nassar, who has been legally accused of sexual assault by more than 130 women and girls. Douglas' claim comes as she backtracks for a tweet she wrote about teammate Aly Raisman that many found to be offensive and victim-blaming.
"I didn't view my comments as victim shaming because I know that no matter what you wear, it NEVER gives anyone the right to harass or abuse you," Douglas wrote in a note posted on Instagram on Tuesday. "It would be like saying that because of the leotards we wore, it was our fault that we were abused by Larry Nassar."
Nassar is expected to plead guilty to first-degree criminal sexual conduct charges, which would get him a minimum prison sentence of 25 years, according to The Detroit News. USA Gymnastics said in a statement to 60 Minutes earlier this month that the organization "is very sorry that any athlete has been harmed," adding that they are making changes, including adopting a "safe sport policy" requiring "mandatory reporting" of possible sexual abuse.
Raisman came forward as an alleged victim of Nassar in an interview with 60 Minutes that aired on Sunday, Nov. 12. She also writes about it in her new book, Fierce. Nassar was a doctor for USA Gymnastics who worked with the women's national teams from the late 1990s until 2015, when allegations of sexual abuse came to light. Raisman spoke up after Fierce Five teammate McKayla Maroney claimed Nassar molested her in an Oct. 18 #MeToo post.
While Raisman has been focusing her public comments on the situation by criticizing USA Gymnastics — asking on 60 Minutes, for instance, what the organization and Nassar did "to manipulate these girls so much that they are so afraid to speak up" — Douglas seemed to look at victims in a since-deleted tweet on Nov. 17. After Raisman posted on social media that "when a woman dresses sexy, it does not give a man the right to sexually abuse her EVER," Douglas responded in a tweet that "it is our responsibility as women to dress modestly and be classy. dressing in a provocative/sexual way entices the wrong crowd."
Douglas quickly got backlash for that tweet, with Final Five (2016 Olympics) teammate Simone Biles tweeting that "seeing this brings me to tears [because] as your teammate I expected more from you & to support her."
Douglas deleted her tweet and wrote a new one, saying she "didn't correctly word my reply" and that she is "deeply sorry for coming off like I don't stand alongside my teammates." She ended her tweet with the hashtag #metoo.
Douglas expanded on that sentiment in her Tuesday statement posted on Instagram. She explained that she had been at an event the day before she sent the offending tweet "where hundred of children and young adults came to spend an evening with me." With that context, Douglas wrote, she was feeling under pressure as a role mode. "I always want to do my best to represent all the best qualities that a role model should embody," she wrote, admitting that "there are times that I fall short."
After adding herself to the group of young women who were allegedly abused by Nassar, Douglas wrote about her experience.
"I didn't publicly share my experiences as well as many other things because for years we were conditioned to stay silent and honestly some things were extremely painful," she wrote. "I wholeheartedly support my teammates for coming forward with what happened to them."
It is devastating that women this young — Douglas is 21 and Raisman is 23 — not only have to have gone through what they allegedly went through, but are also expected to speak with wisdom on complex and traumatic topics that people much older than them struggle with.