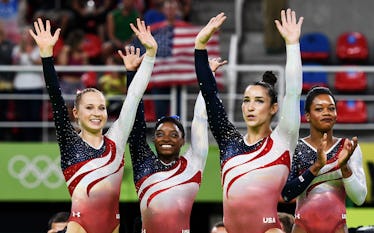 Gabby Douglas Apologizes For Sexual Assault Comments After Simone Biles Calls Her Out
David Ramos/Getty Images Sport/Getty Images
As the sexual harassment and assault allegations continue to stream out of Hollywood, accounts of similar situations are also coming out of other industries. Gymnast Aly Raisman recently opened up, claiming that gymnastics doctor Larry Nassar sexually abused her. Recently, Raisman wrote down her thoughts on the current conversation around sexual misconduct, and she received an unexpected response from gymnast Gabby Douglas. Douglas wasn't so supportive in her remarks, but after Simone Biles' tweet to Gabby Douglas about her sexual assault comments, Douglas quickly took to Twitter to clarify her remarks.
This all started when Aly Raisman took to her Instagram to share some thoughts on the current culture of sometimes victim-blaming sexual assault survivors. Raisman, now 23 years old, was speaking from a place of experience, as she had accused former USA gymnastics doctor Nassar of sexually abusing her since the time he began treating her when she was 15 years old. Nassar currently faces 22 counts of first-degree criminal sexual conduct, according to ESPN.
Raisman's message was about empowering women and holding abusers accountable for their actions. She wrote to the fact that the way a woman dresses is not an invitation to be sexually abused. Raisman said,
When a woman dresses sexy, it does not give a man the right to sexually abuse her EVER.
It was in response to Raisman's post that Gabby Douglas took issue with the way women dress in a now-deleted tweet.
Douglas posted her view that women have the responsibility to "dress modestly and be classy."
Douglas' tweet was interpreted as putting blame on women for "enticing the wrong crowd."
Here is Raisman's post in full.
Immediately, fans were taken aback that the former USA gymnast teammates were so divided on this issue. Simone Biles, another USA gymnast, quickly tweeted out support to Raisman and said she was "shocked" because she "expected more" from Douglas and wanted her "to support" Raisman.
Once Biles came out in support of Raisman and made it clear that she does not hold the same view as Douglas, Douglas deleted her tweet and posted an apology.
Douglas said that she "didn't correctly word" her reply, and she apologized for "coming off like I don't stand alongside my teammates."
Douglas clarified that she believes that "abuse under any circumstance is never acceptable." It appears that Douglas is likely standing with Raisman, since she ended her tweet saying that, "I am WITH you."
There hasn't been a response from Raisman about either of Douglas' tweet, but let's hope that Douglas' support from the second tweet is in reference to Raisman, because Raisman has been very vocal about how difficult it is for victims of sexual assault to come forward. She spoke to 60 Minutes on Sunday, Nov. 12 about how the story surrounding girls not coming forward needs to be about looking the culture. She said, "What did USA Gymnastics do, and Larry Nassar do, to manipulate these girls so much that they are so afraid to speak up?"
That's likely why Raisman penned her latest Instagram post — with the hope that it would give more women courage to truly be themselves and not blame themselves for others' sexual misconduct.
It definitely was shocking to see a divide between the two teammates who competed and won the Olympic Gold Medal in gymnastics in the USA team final while competing in the London Olympics in 2012. Douglas and Raisman were part of the Fierce Five that brought so much pride to the USA in the 2012 Olympics.
Hopefully, their team bonds are stronger than a very badly-worded tweet — and now Douglas can join Raisman in fostering a culture where women aren't blamed for sexual misdeeds committed against them... no matter what they wear.
Check out the entire Gen Why series and other videos on Facebook and the Bustle app across Apple TV, Roku, and Amazon Fire TV.