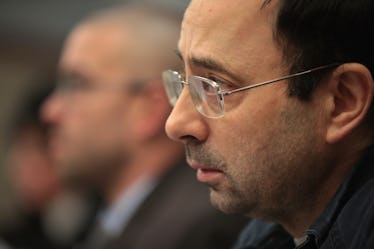 The USA Gymnastics Board Is Finally Taking Steps In The Nassar Abuse Case
Scott Olson/Getty Images News/Getty Images
On Monday, Jan. 22, members of the USA Gymnastics Board of Directors announced their resignation in light of the Larry Nassar sexual abuse case. Effective Jan. 21, 2018, the organization plans to "move forward in implementing change within our organization" with these resignations, according to its president, Kerry Perry. Over 140 women have accused Nassar of sexual abuse, and he pleaded guilty to 10 counts of first-degree sexual criminal conduct, as well as federal child pornography charges. Throughout the last week, the former USA Gymnastics doctor has sat through more than 80 impact statements about his charges during his sentencing process, and there are more to come.
The executive leadership members on the board of directors were Chairman Paul Parilla, Vice Chairman Jay Binder, and Treasurer Bitsy Kelley — all of whom have resigned. The board of directors said they will choose a "an interim chairperson" until a permanent selection is made, according to Fox News.
Kerry Perry, president and CEO of USA Gymnastics said in a statement on Jan. 22, "We support their decisions to resign at this time. We believe this step will allow us to more effectively move forward in implementing change within our organization." Perry said the organization will continue "working every day to ensure that our culture, policies and actions reflect our commitment to those we serve."
The resignations follow former USA Gymnastics President Steve Penny's resignation in March 2017 after he received criticism for not doing more to protect gymnasts from Nassar. Just last week, the group also announced their termination with the Karolyi Ranch in Huntsville, Texas, a longtime Olympian-used facility, after many of the Olympians claimed it was where Nassar molested them.
In a Jan. 9 statement, USA Gymnastics said they "never attempted to hide Nassar's misconduct." The organization added that they "reported Nassar to the FBI in July 2015 and to a different FBI office again in April 2016" following allegations made by three athletes to an independent investigator. "USA Gymnastics cooperated fully with the FBI, including the agents' July 28, 2015, request to not do anything that might interfere with their investigation. USA Gymnastics interpreted that request to mean that it should not discuss the matter, and it refrained from doing so," the statement says.
Jan. 22 marks the fifth day of victim impact statements at Nassar's Michigan hearing before he is sentenced. The impact statements are basically an opportunity for women and girls to come forward and deliver personal accounts to the judge and Nassar himself about his abuse. Nassar has already pleaded guilty and been sentenced to 60 years in prison for child pornography charges and is facing up to 40 years in prison for the sexual criminal conduct charges. 80 women have already delivered impact statements in court, but another 20 or so women are expected to come forward, equalling roughly 100 victims, according to Fox News.
Nassar wrote the Michigan judge a letter last week asking her to put an end to the impact statements because they were "too difficult to listen to." The judge denied his request, saying that "spending four or five days listening to them is significantly minor considering the hours of pleasure you had at their expense and ruining their lives."
Of the 80 impact statements, Olympian Aly Raisman delivered an emotionally lengthy statement on Friday, Jan. 19 as she looked at Nassar directly. Raisman's "Fierce Five" teammate Jordyn Wieber also delivered her statement on Friday. In December, the judge had decided that victims would not speak in court, but Raisman protested the decision writing, "I wanted to be present to not only show him I was strong, but also to explain how his abuse still impacts me today." So when the judge decided that they could deliver their statements in person in January, Raisman made great use of the opportunity.
Raisman's statement has attracted significant media attention and a visceral response for many who have watched the video. At one point in her statement, Raisman said, "Larry, you do realize now that we, this group of women you so heartlessly abused over such a long period of time, are now a force, and you are nothing."
Raisman also called out the USA Gymnastics for being compliant, saying it "is rotting from the inside." The victim impact statements are expected to continue through Tuesday, Jan. 23 and Nassar's court sentencing could be announced anytime soon following the statements.