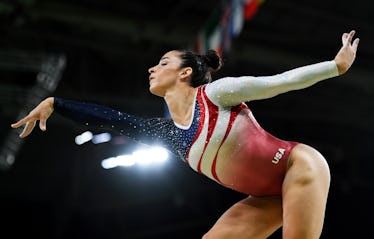 This Video Of Aly Raisman's Statement On The Abusive Gymnastics Doctor Will Leave You In Tears
Laurence Griffiths/Getty Images Sport/Getty Images
On Friday, Jan. 19, Aly Raisman had her day in court to directly confront former USA Gymnastics doctor Larry Nassar about his years of abuse. In the video of Raisman's statement about Nassar, you can see the pure catharsis of the moment. Raisman's statement was all about the empowerment that the "army of survivors" has now that Nassar is finally facing consequences for years of abuse.
Nassar was an athletic doctor for Michigan State University (MSU) and USA Gymnastics for nearly two decades. He has been convicted of using that position of authority to sexually abuse young women and girls. Over 140 women have accused Nassar of abuse. He pleaded guilty to 10 counts of first-degree sexual criminal conduct as well as federal child pornography charges. He was sentenced to 60 years in prison on the child pornography charges.
Raisman said her statement in person at the Michigan court where Nassar's sentencing is happening. As part of that process, throughout this week, the 140 victims were given the option to provide victim impact statements. Raisman — and her "Fierce Five" teammate Jordyn Wieber — faced Nassar with her statement on Friday.
Raisman really wanted to speak to Nassar in court. In December, the judge had decided that victims would not speak in court, a decision which Raisman protested, writing, "I wanted to be present to not only show him I was strong, but also to explain how his abuse still impacts me today." The judge later decided to give the women the option. On Friday, Raisman thanked the judge for that.
Still, Raisman's appearance on Friday was a bit of a surprise. In a tweet on Jan. 15, she said she would not be attending the sentencing as "it is too traumatic for me." In her Friday appearance, she said she chose to come after watching the "other brave survivors" deliver their statements this week. After explaining that, Raisman addressed Nassar directly, saying,
Larry, you do realize now that we, this group of women you so heartlessly abused over such a long period of time, are now a force, and you are nothing. The tables have turned, Larry. We are here. We have our voices, and we are not going anywhere. And now, Larry, it's your turn to listen to me.
The start of Raisman's statement on Friday followed the written impact statement she released in December. She added on Friday,
I am here to face you, Larry, so you can see I've regained my strength, that I'm no longer a victim, I'm a survivor. I am no longer that little girl you met in Australia where you first began grooming and manipulating [me].
Raisman also referenced a letter Nassar sent to the judge this week, wherein he said it would be too difficult for him to hear the victim statements. The judge rejected his request to not have to hear them. "You are pathetic to think anyone would have any sympathy for you. You think this is hard for you? Imagine how all of us feel," Raisman said. She continued,
Imagine how it feels to be an innocent teenager in a foreign country hearing a knock on the door, and it's you. I don't want you to be there, but I don't have a choice. Treatments with you were mandatory. You took advantage of that. You even told on us if we didn't want to be treated by you, knowing full well the troubles that would cause for us.
Raisman went on to say that because Nassar was presented as someone to be trusted, she blamed herself for feeling weird about him. "You are so sick, I can't even comprehend how angry I feel when I think of you. You lied to me and manipulated me to think when you treated me, you were closing your eyes because you were working hard," she said. Raisman also said,
Imagine feeling like you had no power and no voice. Well you know what, Larry? I have both power and a voice, and I am only beginning to just use them.
All these brave women have power, and we will use our voices to make sure you get what you deserve: A life of suffering spent replaying the words delivered by this powerful army of survivors.
Raisman stated that Nassar did not take her love for gymnastics away from her, and that she will work tirelessly to ensure that his mark on the sport is completely eradicated. She also turned her attention to the organizations that she believes failed to stop Nassar's abuse, a point which she's been publicly making since before she came forward as a victim herself. She claimed that the adults protected Nassar over the young women and went in on the fact that Nassar was appointed to help create plans to protect the athletes from abuse. Raisman said,
If over these many years, just one adult listened and had the courage and character to act, this tragedy could've been avoided. I, and so many others, would've never, ever, met you. Larry, you should've been locked up a long, long time ago.
Raisman turned her attention to the organizations, claiming,
It's easy to put out statements talking about how athlete care is the highest priority, but they've been saying that for years, and all the while, this nightmare was happening. False assurances from organizations are dangerous, especially when people want so badly to believe them. They make it easier to look away from the problem and enable bad things to continue to happen. Even now, after all that has happened, USA Gymnastics has the nerve to say the very same things it has said all along. Can't you see how disrespectful that is? Can't you see how much that hurts?
Raisman referenced a statement from USA Gymnastics CEO and president Kerry Perry, who said on Jan. 16,
Our hearts break for these athletes and we deeply admire their courage and strength in sharing their experiences. USA Gymnastics will keep their words and experiences at the core of everything we do as we remain focused on our highest priority — the safety, health and well-being of our athletes and creating a culture that empowers and supports them.
Raisman replied to that, "Talk is cheap." She added that she feels that USA Gymnastics "is rotting from the inside." Raisman took some time to call out the U.S. Olympic Committee (USOC) too. She said,
I have represented the United States of America in two Olympics and have done so successfully. Both USA Gymnastics and the United States Olympic Committee have been very quick to capitalize and celebrate my success. But did they reach out when I came forward? No.
The USOC said in a statement last month related to a lawsuit from McKayla Maroney that USA Gymnastics was handling the allegations. "We are heartbroken that this abuse occurred, proud of the brave victims that have come forward and grateful that our criminal justice system has ensured that Nasser will never be able to harm another young woman," the statement says.
Raisman called for an independent investigation "of exactly what happened, what went wrong, and how it can be avoided for the future" at USOC and USA Gymnastics.
She ended her statement by asking the judge to give Nassar the strongest possible sentencing for his crimes. Raisman concluded,
Abusers, your time is up. The survivors are here, standing tall, and we are not going anywhere.
And please, your honor, stress the need to investigate how this happened so that we can hold accountable those who empowered and enabled Larry Nassar, so we can repair and once again believe in this wonderful sport. My dream is that one day, everyone will know what the words "me too" signify, but they will be educated and able to protect themselves from predators like Larry, so that they will never, ever, ever have to say the words "me too." Thank you.
The victim impact statements are continuing in the sentencing phase, and may go on until next Tuesday, according to CNN. So far, over 70 victims have spoken. Their voices are finally being heard.