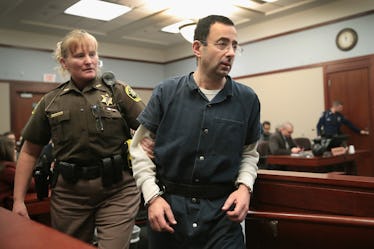 Larry Nassar Received His Sentencing For Abusing Young Gymnasts & It's So Satisfying
Scott Olson/Getty Images News/Getty Images
During a sentencing hearing that lasted seven days, over 150 women confronted former USA Gymnastics doctor Larry Nassar face-to-face, detailing their stories of abuse at his hands. Then came the punishment for the crimes he's been convicted of committing against many of them. On Wednesday, Jan. 24, Judge Rosemarie Aquilina issued an answer to the question of how long Larry Nassar will be in jail.
Nassar, the 54-year-old physician accused of abusing over 140 young female athletes over two decades, was sentenced to 40 to 175 years in prison. The sentence was delivered in Ingham County Circuit Court in Lansing, Michigan, and came as a result of a plea deal in which he admitted to 10 separate sexual assault charges in the state.
Before the arrival of Wednesday's sentence, Nassar had already been sentenced to 60 years in prison by a federal court, after pleading guilty to three separate charges of possession of child pornography.
Until 2016, Nassar had worked as an associate professor at Michigan State University, and served as a team doctor for USA Gymnastics until 2015, over the span of four summer Olympics.
Among the athletes who've said they were sexually assaulted by Nassar were scores of women who never competed internationally. During a statement read before Nassar received his sentence, Michigan assistant attorney general Angela Povilaitis said some of the women wondered whether injuries that derailed their careers could have been treated better, had they been under the care of a different doctor.
Then there are the number of gold medal-winning gymnasts who have said Nassar abused them as well. McKayla Maroney, a gold medalist at the 2012 London Olympics, said Nassar's abuse of her started when she was 13 years old and transpired over a number of years, with one instance occurring at the 2012 games.
"It happened in London before my team and I won the gold medal, and it happened before I won my Silver," Maroney said in a statement back in October. "For me, the scariest night of my life happened when I was 15 years old. I had flown all day and night with the team to get to Tokyo. He'd given me a sleeping pill for the flight, and the next thing I know, I was all alone with him in his hotel room getting a 'treatment.' I though I was going to die that night."
Aly Raisman, a medalist at both the 2012 London Olympics and 2016 Rio Olympics, pointed the finger at both Nassar and USA Gymnastics.
"Why are we looking at why didn't the girls speak up?" Raisman said during an interview with 60 Minutes in November. "Why not look at what about the culture? What did USA Gymnastics do, and Larry Nassar do, to manipulate these girls so much that they are so afraid to speak up?"
Nassar's trial prompted multiple members on the board of USA Gymnastics to resign. USA Gymnastics said in a statement responding to Raisman in November that the organization was "very sorry that any athlete has been harmed during her or his gymnastics career." The organization added that it is taking measure to help ensure future abuse will not happen.
Over the course of Nassar's sentencing hearing, presiding judge Rosemarie Aquilina gained notoriety for her outspokenness. After the sentence was issued, she said she wouldn't be making any public comment on the case in the future, except on one condition.
"I don't know what more I could possibility say," Aquilina said on Wednesday. "But I'm not going to talk with any media person, until after the appeal period. And even then, if you talk to me about this case, I will have a survivor with me because it is their story."
The first prominent reports of Nassar's alleged abuse were published in September 2016 by the Indianapolis Star, which detailed stories of two former gymnasts who said they were molested by Nassar on multiple occasions during a period that spanned two decades.
After the Star published that initial report, over 150 women accused Nassar of sexual assault.