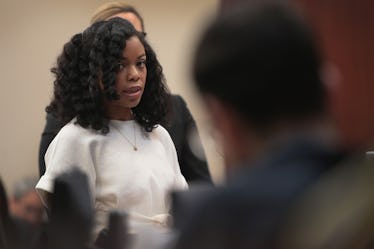 These Quotes From The Larry Nassar Case Will Empower You To Always Speak Up
Scott Olson/Getty Images News/Getty Images
On Wednesday, Jan. 24, Rachael Denhollander delivered her victim impact statement in the Michigan court where former athletic doctor Larry Nassar was being sentenced. Denhollander was the last victim to speak about Nassar. In total, 169 statements were given, and 156 women personally delivered them over seven days in the sentencing hearing, per CNN. Their statements helped to confirm that Nassar will be spending the rest of his life in prison. Nassar was sentenced to 40 to 175 years in prison on Wednesday. The quotes from the Nassar case are hard to read and hear, but, ultimately, so important. These women were trying to be heard for decades, and now that they are, they have been sharing extremely powerful statements that go far beyond this one man.
Nassar was a doctor at USA Gymnastics and Michigan State University (MSU) for about two decades until 2015 and 2016, respectively, after allegations of assault were made known to the organizations. Nassar pleaded guilty to federal child pornography charges, for which he was sentenced to 60 years in prison. He also pleaded guilty to 10 counts of first-degree criminal sexual conduct, which was what this sentencing hearing was for.
Statements were given by a variety of former and current athletes, including gymnasts, dancers, and runners. This included household names like Olympic gymnasts Aly Raisman, McKayla Maroney, Jordyn Wieber, and Jamie Dantzscher.
Raisman's incredible statement was widely shared — and even used on posters at the Women's March.
She said,
Imagine feeling like you had no power and no voice. Well you know what, Larry? I have both power and a voice, and I am only beginning to just use them.
All these brave women have power, and we will use our voices to make sure you get what you deserve: A life of suffering spent replaying the words delivered by this powerful army of survivors.
Wieber was quick to note that the statements of herself and her Olympic teammates are no more "important" than those of the non-Olympian victims.
As Wieber said in her statement, "I am one of over 140 women and survivors whose story is important. Our pain is all the same, and our stories are all important."
During her statement, which was the first time she has come forward publicly as a survivor, Wieber began to cry as she recounted her training for the 2012 Olympics. She had an injury and, as a doctor, Nassar was supposed to be helping her, but instead, "ultimately, [the injury] made me feel less prepared than I should have been." She said,
Now, I question everything about that injury and the medical attention I received. Was Larry even doing anything to help my pain? Was I getting the proper medical care, or was he only focused on which one of us he was going to prey on next? What was he thinking about when he massaged my sore muscles every day? Now, I question everything.
Kassie Powell, a Michigan State athlete, was joined by her father.
In her statement, Powell looked Nassar in the eye and laughed, telling him, "don't look confused," when she referenced his treatment.
Her father, Doug, is in law enforcement and addressed Nassar as "Inmate Nassar." He compared Nassar to sandpaper, having dug into the young women and girl's exteriors. "But those scratched and dug will become polished and beautiful," he said, "and you, Inmate Nassar, will be thrown out and discarded, like the garbage you are."
Tiffany Thomas Lopez, an MSU softball player, claimed that she told three athletic trainers about the abuse in 1998, according to ESPN.
During the hearing, she claimed,
The army you chose in the late '90s to silence me, to dismiss me and my attempt at speaking the truth, will not prevail over the army you created when violating us.
The NCAA opened an investigation into MSU over this case, The New York Times reported on Jan. 23. Athletic Director Mark Hollis promised a "comprehensive response" to NCAA in a statement. "Our first priority has always been and will always be [college athletes'] health and safety," Hollis said in the statement.
Hannah Morrow, 17, read a poem at the hearing.
"The investigation done by MSU was brief and sloppy. It left me feeling disposable and worthless," Amanda Thomashow, who filed a Title IX sexual assault complaint in 2014, said in her statement.
"All the people at USA and MSU and the United State Olympic Committee who covered it up and allowed this negligence and abuse to happen to children are responsible. And they have to take responsibility for it," Gina Nichols, the mother of gymnast Maggie Nichols, said in a statement.
In a statement on Jan. 9, USA Gymnastics said, "Contrary to reported accusations, USA Gymnastics never attempted to hide Nassar's misconduct."
Nicole Soos, a figure skater, said,
It is imperative to show our society that sexual abuse will not be tolerated, and that we value the importance of bringing proper justice to those who have suffered by the actions of others.
But we cannot stop here. Those who have enabled Larry Nassar and his Jekyll and Hyde lifestyle need to answer to us as well. Michigan State University must take accountability for their absence in putting an end to this abuse scandal.
Raisman said,
Even now, after all that has happened, USA Gymnastics has the nerve to say the very same things it has said all along. Can't you see how disrespectful that is? Can't you see how much that hurts?
Kyle Stephens was the first to give a statement in the hearing.
Her family was friends with Nassar. "Little girls don't stay little forever. They grow into strong women that return to destroy your world," Stephens said, with a line that quickly went viral.
And Denhollander, who was the first woman to come forward with public allegations of abuse against Nassar, was the last to speak.
Denhollander said on Wednesday,
How much is a little girl worth? How much is a young woman worth?
This sentence will send a message about how serious abuse will be taken. I submit to you that these children are worth everything. Worth every protection the law can offer. Worth the maximum sentence.
On Wednesday, Judge Rosemarie Aquilina called for investigations into the organizations that employed Nassar. With the sentencing, it's ensured that no other girl will be terrorized by Nassar, and that's all because of the courage of the women who spoke up.