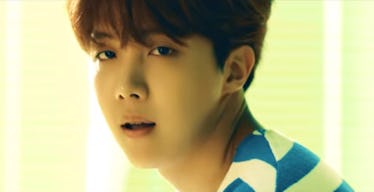 Here's Everything You Should Know About J-Hope From BTS, Who's Way More Than A Dancer
As a K-Pop act, BTS is well-known for its incredible dance moves. And no dancer in the group is more skilled than J-Hope. While he's popular among BTS' ARMY of fans for his smooth moves, J-Hope is more than a dancer. So, who is J-Hope? Well, in addition to being a master on the dance floor, J-Hope boasts an enthusiastic personality, a great smile, and world-class rapping skills.
Since there's so much to learn about BTS and J-Hope's role within the group, let's break down all the ways in which he contributes to the group's massive popularity.
1. He Was One Of The First Members of BTS
As a skilled rapper and dancer, J-Hope, whose real name is Jung Hoseok, was one of the group's very first members. In the beginning of the group's journey to fame and success, J-Hope signed on as the third member of BTS after Rap Monster and Jin.
2. He's Got A Very Upbeat Personality
One of the things J-Hope is known for is his incredibly happy personality. It's part of what makes his stage name so fitting. Among fans and his fellow BTS members, J-Hope is considered to be one of the most playful and enthusiastic performers in the group. And who can forget his now iconic slogan of hope, "I'm your hope. You're my hope. I'm J-Hope."
Obviously, J-hope steals a lot of hearts with his hopeful demeanor and amazing smile.
Catch some of his sillier moments on screen and stage in this video:
3. He's A Killer Dancer With Some Incredible Moves
It's no secret that BTS has some very eye-catching choreography. And J-Hope is at the center of it all. His skills as a dancer have made him truly stand out among all the guys in BTS. So, it should come as no surprise that the group looks to him for dance inspiration. Apparently, J-Hope plays a huge part in how the group goes about their choreography. Amazing stuff!
Here are some of J-Hope's best moves:
4. J-Hope Used To Be A Competitive Dancer
Does it surprise you to learn that J-Hope used to dance competitively? J-Hope has been dancing since he was just a kid and even competed in national competitions in South Korea. All that hard work paid off it seems because he won first place in a 2008 competition. And now, look at him! He's literally dancing on the world stage for everyone to see. What a journey!
5. He's Also an Accomplished Solo Rapper
Not only is J-Hope a top-tier dancer and overall performer, he's also an awesome rapper as well. He's one of three rappers in BTS. And using his talent for rap in the group has inspired him to strike out on his own. In January 2017, Soompi reported that J-Hope has plans to record his own mixtape. He released that mixtape, called Hope World, in March 2018, to much acclaim.
All told, J-Hope seems like he's an incredibly talented guy and he's definitely made his mark on the world with his work in BTS. I'm sure there's so much more to come from J-Hope. Can't wait to see what amazing things he brings to the stage next!