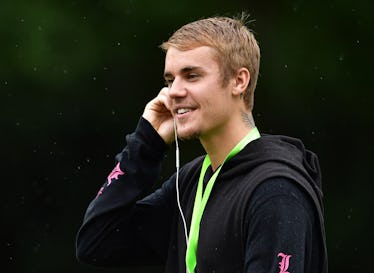 Justin Bieber's Reason For Skipping The Grammys Will Actually Make Fans So, So Happy
Stuart Franklin/Getty Images Sport/Getty Images
Justin Bieber has largely remained out of the spotlight lately. So when it was announced that he would on the nominee roster for the 2018 Grammy Awards, the big question was whether he'd show up to the red carpet, or even just the awards show itself. Well sadly for us, Justin Bieber was a no-show at the Grammys this year.
Once Bieber was nominated for Song of the Year for his work on the hit song "Despacito," thought it was likely he would show up to receive recognition for his achievement in music. Beyond Song of the Year, Bieber was also nominated for Record of the Year and Best Pop Duo/Group Performance, also for "Despacito." So basically, it looked to be a big night for him.
On the other hand, fans hoping for an appearance from the Biebs had a wrench thrown in the works on Jan. 27, the day before the show, when rumors began circulating that Justin Bieber might miss the 2018 Grammys, supposedly because he doesn't want to make any public appearances before he's done working on his new album. OK, I can understand not wanting to get distracted. I guess.
The rumors were a disappointment for those die-hard Jelena fans who have been patiently awaiting a official red-carpet reunion since the couple were first rumored to have reunited back in Oct. 2017. Gomez and Bieber began hanging out together earlier that month while the "Wolves" singer was still seemingly dating The Weeknd. But once sources confirmed to People on Oct. 30 that Gomez and The Weeknd called off their relationship, fans began speculating that the time she and Bieber were spending as "friends" would soon lead to more.
And my, oh my, were the Jenela fans right. Despite all the drama that went on during their on-and-off relationship, lasting from 2011 to 2015, and feeling like all hope was lost for a reunion between the two, Gomez and Bieber were officially back on. And the reunion is probably one of the sweetest celeb couple reunions that I've ever seen. Once pictures of the pair kissing at Bieber's hockey game in L.A. surfaced, fans literally lost their minds.
But not everything has been smooth sailing for the couple since their reunion. Despite the fact that Bieber's mom, Pattie Mallette, absolutely adores Gomez and surely is over the moon that the two have come back into each others' lives, Gomez's mom reportedly had a very different take on the Jelena resurrection. Gomez mama Mandy Teefey told Gossip Cop that she's "not happy" about her daughter's rekindled romance with Bieber. However, Teefey acknowledged that Gomez is an "adult" and one who "makes her own choices." "She is 25 years old and knows what is at stake with her health," Teefey said. "Selena is an adult and can make her own choices."
And Gomez is not ashamed to be back with Bieber by any means. She spoke candidly about the Biebs with Billboard after she was named the magazine's Woman Of The Year. In an interview released in Nov. 2017, the singer said,
I'm 25. I'm not 18, or 19, or 20. I cherish people who have really impacted my life. So maybe before, it could have been forcing something that wasn't right. But that doesn't mean caring for someone ever goes away. And [that goes for] people in general.
But with a couple who has as much history as these two have, it's no surprise that their reunion has come with hardships. And it's not just Gomez's mom who has reportedly caused rifts for the recently reunited couple. The two were rumored to have started attending couples therapy sessions in Dec. 2017 due to a fight over one particular Bieber ex-girlfriend — Hailey Baldwin. According to a TMZ report, Bieber contacted his ex to patch things up after a sour breakup between the two. Bieber is reportedly making amends in light of his new faith, inspired by his new spiritual home that he's found at Hillsong Church.
Regardless of all the rumors of hardship, it looks like the Jelena reunion is still going strong. Gomez and Bieber spent their New Year's Eve weekend together in Mexico, and were also spotted leaving a hot yoga class together recently. Unfortunately, fans will still have to wait to see the rekindled power couple grace the red carpet together once again,