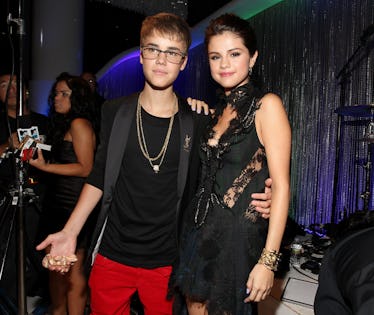 Justin Bieber & Selena Gomez Are Reportedly In Couples' Therapy Over Hailey Baldwin
Christopher Polk/Getty Images Entertainment/Getty Images
Say it isn't so! Is there trouble in paradise with Justin and Selena already? We've barely gotten this relationship off the ground (again) and now we're getting word that it may be coming to a bit of a halt. The gossip mill is churning, and that's because Bieber and Gomez are reportedly arguing. But what could be so detrimental that these two are on the outs so soon after getting back together? This looks like it may be a case of jealousy circling around Justin's past. So, is Justin Bieber and Selena Gomez's fight about Hailey Baldwin? Reportedly, Jelena is in couples' therapy trying to work things out and talk things over when it comes to Justin's ex-girlfriend Hailey. Elite Daily reached out to Bieber and Gomez's teams for confirmation of this report, but did not hear back by time of publication.
So let's backtrack here. According to TMZ, a source that's connected to Hillsong Church is saying that the Biebs has been "trying to make amends lately as part of his renewed faith" which apparently included contacting his ex, Hailey Baldwin. (In case you missed it: Beiber and Baldwin had a brief but public relationship that reportedly didn't end on the best of notes.)
So, as part of Bieber's new lease on life and his "making amends," he reportedly told Gomez about trying to smooth things over with Baldwin, which supposedly did not go well (which, TBH, I can't say I blame Selena for). Hey, when your man contacts someone from his past, there's always just that little seed of doubt — even if you're Selena freaking Gomez.
Reports also say that this little spat — as well as the couple's choice to go to therapy about it — isn't sitting all that well with Mandy Teefey, aka Mama Gomez. Pair that with unconfirmed reports that Teefey was hospitalized after a "heated" conversation with Selena about her relationship with Justin, and one can be led to believe that things are not as effortless as they appear to be in Bieber and Gomez's world right now.
It's been no secret that Gomez's family reportedly doesn't approve of her relationship with Bieber. So much so that Bieber isn't even invited over to spend the holidays with the Gomez family — and honestly, that's pretty harsh. According to People, an inside source says that Justin is not welcome at their holiday celebrations:
Justin's family always loved Selena, but Selena's family is still not happy about her seeing Justin ... Selena doesn't bring Justin to any family events. Selena is spending Christmas with her family. As of now, Justin is not invited.
Which is actually super sad, considering just how open and supportive Justin's family is about his relationship with Selena — especially his mom, Pattie Mallette, in particular.
According to People, when Mallette was asked about her son's relationship during the Justice Speaks Holiday Luncheon benefit in L.A., she had nothing but kind words to say about Gomez:
I don't know so much about their personal relationship because he doesn't share a whole lot, but I love her. I support anything [he does], if he loves her I love her, and I've met her and we have a special bond so I think she's precious. I can't really speak on their relationship, that's between them.
Kind of breaking my heart right now that one family is so supportive and one is less so. Perhaps couples' therapy is a good option for Justin and Selena right now, so that the pair can talk through their families' feelings about their relationship, too. I mean, look, they're already clearly dealing with Justin making amends with his past à la Hailey Baldwin, so why not tack one more issue on their to-do list?
Whatever the case may be, we hope that Justin and Selena can get through the situation they're dealing with together, and leave any drama of their past behind them.
We're all rooting for you, Jelena.