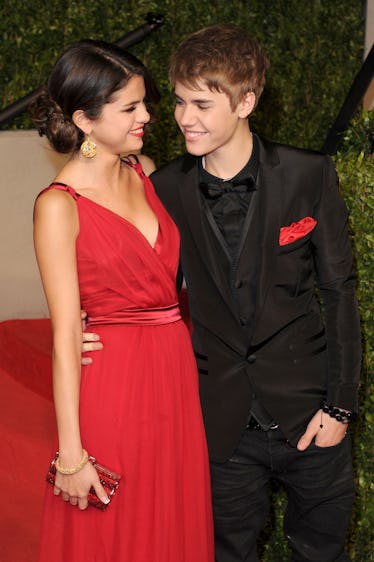 Photos Of Selena Gomez & Justin Bieber On A Hot Yoga Date Will Make You Sweat
Craig Barritt/Getty Images Entertainment/Getty Images
Ah, 2018. What a time to be Selena Gomez and Justin Bieber. The reunited, sensational duo is taking the new year by storm, and by that, I mean taking hot yoga classes. After spending New Year's Eve together in Cabo, photos of Selena Gomez and Justin Bieber leaving hot yoga prove these two are serious about getting and staying healthy in 2018.
After a whirlwind romance with The Weeknd, Gomez found herself back with Bieber just in time for the new year. The two began hanging out in November of 2017, and have clearly rekindled their serious relationship. Usually, wherever Jelena goes, at least a little bit of drama follows. However, these two seem to be rock solid so far. Now, they just have to get their families and the rest of the world on board.
It seems one tactic they're trying is to stay zen and "above the haters" while we all adapt to their new romance.
On Jan. 3, the two were spotted strutting out of a hot yoga class looking sweaty AF, but in a good way. Gomez's hair was dripping wet, and Bieber, for some reason, was wearing really high socks. Presumably, they had a little detoxing to do after their Cabo getaway.
Initially, it was reported Gomez would be spending the end of 2017 on the beach with her girlfriends. Fans were concerned this meant trouble in paradise (again) for Jelena, but that was so not the case. Even though photos popped up of Bieber playing hockey in Canada, he was apparently coming to Cabo the whole time.
E! News reported Gomez was in a great mood when she arrived at the tropical location. A source told the outlet,
She seemed very excited when she landed and was giggling with her friends and taking photos ... They are all planning to do some fun dinners and spend New Year's Eve together.
Later, a source told People, "Justin and Selena are doing great. They celebrated New Year's Eve together in Cabo."
Behold: a beach Biebs.
I mean, why else would the two just happen to be on beaches at the exact same time on a global holiday?
A different source told E!,
Justin flew into Cabo on a private jet from Cancun where he spent a few days with his family ... He arrived on Saturday evening and checked into an oceanfront villa 10 minutes away from Selena's villa where she was staying.
Reportedly, Gomez called in a mariachi band for a special dinner on New Year's Eve and Bieber swung by for midnight. The source continued,
He and Selena spent time together again. They were very low-key and dressed casually ... They rang in the New Year together and enjoyed watching fireworks over the ocean.
Another insider confirmed,
Justin had a great New Year's Eve with Selena. He is looking forward to 2018 with her. It was a special evening shared with a few close friends in a beautiful place.
Gee, sounds good to me.
Now, it's the week after the holiday and the two have already jumped back into their Los Angeles routine. Both Gomez and Bieber have been vocal about embarking on their own health journeys, and a hot yoga class fits that lifestyle.
A little downward dog in a sweltering room with sweaty strangers never hurt anybody, right? Plus, hot yoga helps facilitate the whole healthy body, healthy mind, healthy spirit thing everyone talks about.
We hope these two continue to find positivity and happiness in one another in 2018!
Check out the entire Gen Why series and other videos on Facebook and the Bustle app across Apple TV, Roku, and Amazon Fire TV.