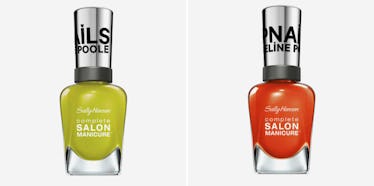 Sally Hansen Just Dropped '90s-Themed Nail Polish, So You Can Get Slimed IRL
Courtesy of Sally Hansen
I remember watching the Nickelodeon Teen Choice Awards when I was younger wanting nothing more than to get slimed. Thanks to Sally Hansen's upcoming '90s-themed nail polishes, my dream can come true, minus the mess. When does Sally Hansen x Madeline Pool drop, you ask? The fun polishes are already here.
The whole collection is themed around '90s nostalgia, which has been having a major moment of late. Kylie Jenner wore a fanny pack, Urban Outfitters sells Caboodles, silk hair scrunchies are a thing, and Fashion Week was wrought with all the '90s trends you could think of, Friends-friendly banana hair clips included.
Sally Hansen partnered with famed nail artist Madeline Poole to create the limited-edition colors. "Poole was inspired by the textures, patterns, design, and color of the late '80s and early '90s," the brand explained. Poole was influenced by "the smell of her sister's hairspray, the wood-paneled, red velvet interior of the Dodge Aries her family called the 'Cloud Mobile,' and her mom's aerobics leggings" when she conceived of the line.
All the polishes are made with Sally Hansen Complete Salon Manicure formulation which have the benefits of a "base coat, growth treatment, runway-inspired color, top coat, gel-shine finish, chip-resistance, and a strengthener with keratin complex," all wrapped up into one colorful bottle.
Call Me On My Shellphone
($8)
This shell-inspired neutral color is exactly what you need for a lazy-girl manicure. Lighter colors like this one dry quickly and it's less obvious when they chip. Sally Hansen's polishes shouldn't chip for at least ten days, though, so that's a non-starter here.
#TBT to flip phones and extendable antennaes. I couldn't live without emojis and Bitmoji, though, I don't know how Cher and Dionne did it.
Mallratz
($8)
This deep, emerald green is seriously enchanting. And with the ten day chip-free formula, you don't need to be scared of such dark colors like I usually am.
Sorry not sorry for all the Clueless gifs. Cher's Clueless outfit is totally trending right now, though, so you think I'd leave her out? As if! And yes I do have a sense of direction — to the mall.
Material Pearl
($8)
This "metallic light pink" reminds me of the Pink Ladies in Grease and now I can finally be one! It'll also go well with my flamingo pool floats, rose-colored sunglasses, and the many other rose gold trinkets and accessories I own.
Betty Rizzo was the OG Regina George, but less mean.
Say It Lycra Mean It
($8)
Poole suggests you "channel the pep of an '80s-style aerobics instructor" with this red-orange hue and that's exactly what I was thinking (minus the actual exercise bit).
They're so synchronized! And so peppy... it would take about 20 cups of coffee to get me like that.
Vinyl Tap
($8)
I'm a sucker for anything grey and this fantastic grey polish has a slight blue tint to it that's making me swoon. It'll go great with any and all of my groutfits.
I'll take any excuse to look at cat videos. Or cat photos, or post photos and videos of my own cats.
Slime Scene
($8)
My not so distant inner '90s child is freaking out. This lime green slime polish is the pop of color I need to break me out of my neutral-heavy post-winter slump.
Doesn't that look like fun? The nail polish is definitely a less messy way to get slimed, though, so I think I'll stick with that.
The polishes are out now at drugstores and sell for $8 a pop. They'll all fit into your Urban Outfitters Caboodle along with your Nickelodeon eyeshadow palette — it's like the '90s never ended!