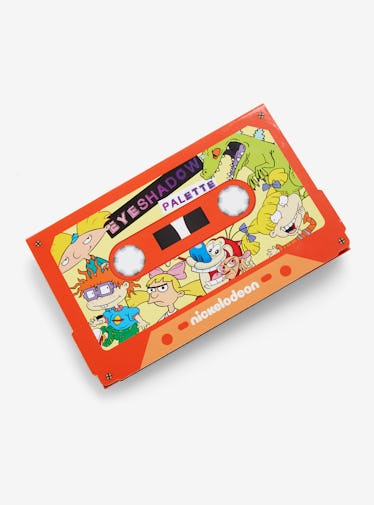 Nickelodeon's Eyeshadow Palette Has All Of Your '90s Heroes, So Prepare For Nostalgia Overload
I thought that The Rugrats Movie coming to Netflix was the peak of my childhood nostalgia, but as it turns out, the best was yet to come. A Nickelodeon eyeshadow palette was just released and I can't handle myself.
The palette is packaged to look like an orange cassette tape — those are the things that played music before CDs, which were the things that played music before iPods, which came before iPhones. That's right, us '90s kids had to lug around cassette tapes, cassette players, and chunky headphones when we wanted to listen to music on the go.
Today, Urban Outfitters sells about 35 different cassette tapes and a Bluetooth cassette boombox, so I guess they're coming back? The tapes aren't oldies either, you can buy Taylor Swift's album Reputation on tape. Swift is also a '90s kid (born in 1989) so I'll give her that. Nickelodeon is taking advantage of this '90s throwback boom which is why it released the cartoon-themed eyeshadow palette. It's sold only at Hot Topic, another move that is so '90s. When you go to pick up the palette you may want to get a tattoo choker necklace and a Lisa Frank shirt while you're at it.
Nickelodeon Eyeshadow Palette, $17, Hot Topic
The outside of the eyeshadow palette features Nickelodeon's signature orange tape. All of Nickelodeon's now-vintage cassette tapes and VHS tapes used to actually be orange, so the packaging is on point. There are drawings of some of the classic '90s cartoons characters, featuring Ren and Stimpy from The Ren & Stimpy Show, Arnold and Helga from Hey Arnold!, and Chuckie, Angelica, and Reptar from Rugrats.
Nickelodeon Eyeshadow Palette, $17, Hot Topic
There are 10 shades of eyeshadow in the palette, along with a brush and mirror to help apply. The brush handle is the same color as Nickelodeon's famous green slime, and the colors are naturally named after references to various Nickelodeon shows. "You Eediot!" is a deep red shade named after The Ren & Stimpy Show. Ren would often utter the phrase on the show when angered by Stimpy's indifference to pretty much everything. It's also the name of an album released in connection with the show.
A beige-colored hue in honor of one of my personal favorite shows, The Wild Thornberrys, is called "Smashing." You may remember that "smashing" was Nigel Thornberry's unofficial catchphrase. I'm still envious of Eliza Thornberry; my childhood included a lot of time waiting for my ability to talk to animals to kick in. There's also a Rugrats and Wild Thornberrys crossover movie that I'm not sure why I haven't seen yet. It's on Netflix, so I really have no excuse.
"Football Head" is a highly pigmented royal blue shadow named after none other than Arnold Shortman of Hey Arnold! "Hi Ho Diggety" is a bright orange shade named after CatDog. The feline-canine brothers were another classic show. Other colors include "I'm Beautiful," a wintery white pan; "He Loves Me," a beautifully shimmery bronze; and "Rant," and intriguing teal color that I can't wait to try out.
Cat and Dog getting hit with the slime is almost iconic.
Nickelodeon Eyeshadow Palette, $17, Hot Topic
Nickelodeon announced restocking of the palette on Twitter, so naturally people had a lot of feelings about it.
This user can hardly container her excitement and I can relate.
Gotta go get paid so I can buy the palette, bye.
All the excitement.
Here we are, and it's a glorious moment.
Take the money, give the eyeshadow.
Or like, today.
Shoppers are also conflicted between whether the palette resembles a VHS or cassette tape. Personally, I'm team cassette tape.
It's definitely a cassette tape, IMHO.
The palette is available only at Hot Topic and retails for $17. Only the cartoon gods might know how long it will be in stock, but I'm guessing around the length of an after-school special.