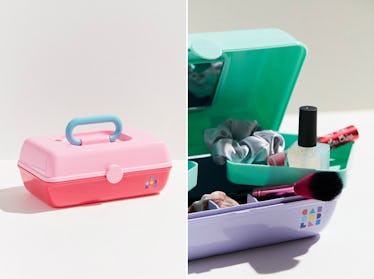 Urban Outfitters Dropped $10 Millennial Pink Caboodles & I Never Want To See A Makeup Bag Again
I can picture it like it was yesterday: Dozens of glittery nail polish bottles, neon eyeshadows, and lipgloss shiny enough to spot from space, all spilling out of my beautiful Caboodle. I'm now wondering why I ever got rid of that portable, max-convenient case. Luckily, I know just where to buy a Caboodle, so we can all relive our '90s glory days.
While the pink and purple plastic varieties are the unofficial face of the brand, there are actually a variety of Caboodle cases. The brand makes everything from sturdy metal cosmetic train cases to everyday soft makeup bags that fit in your purse. The legendary '90s it-girl must-have, the On-The-Go Girl Caboodle, is of course what we're talking about here, though. The Caboodle to end all Caboodles is a simple plastic cosmetics carry case, and yet, so much more. It's a symbol of my youth, a badge of '90s girl honor, and a coming of age story all wrapped up in one pretty pastel package.
Caboodles is celebrating its 30th anniversary; the illustrious brand launched in 1987, and I'm thankful for it every day. The iconic carrying case was created when Wheel of Fortune's Vanna White was seen carrying her makeup in a fisherman's tackle box, and it was a crime against beauty. Caboodles swooped in and saved the day by creating the very first of its namesake products, and thus, a star was born.
In honor of Caboodles' anniversary, and the fact that '90s fashion trends are back in a big way, Urban Outfitters has exclusive Caboodles that you'll need to get your hands on — or you'll be totally buggin'.
Vintage Pretty Makeup Case in Pink, $10, Urban Outfitters
Look at that dual-toned pink beauty. The top of the box is millennial pink because Caboodles knows their audience, and it has a pastel blue accent handle because the whole point is that it's an on-the-go case! Oh yeah, I forgot to mention, it's only $10.
Vintage Pretty Makeup Case in Pink, $10, Urban Outfitters
And look at how much stuff it can hold! The Caboodle opens up to show off two swing out trays for your smaller beauty knick-knacks, a roomy bottom compartment for all your brushes and larger items, and a mirror underneath the lid so you can effortlessly apply your lewk.
Vintage Pretty Makeup Case in Lavender, $10, Urban Outfitters
Pink not your thing? Caboodles still has something for you with this lavender and teal box.
A closeup of the rainbow Caboodles logo sticker — do you think it would be too much to get that as a tattoo?
Vintage Pretty Makeup Case in Mint, $10, Urban Outfitters
This mint and peach color combo is fresh AF. I'm already having anxiety about which color Caboodle I want!
Vintage Pretty Makeup Case in Mint, $10, Urban Outfitters
I honestly don't know what I couldn't fit in here. Brushes, foundation, highlighter, eyeshadow, mascara, lip balm, nail polish, check, check, check.
Whichever Caboodle you choose, never forget the signature of a true '90s child: stickers! If you didn't decorate your Caboodle with stickers, do you even really have one?
Lisa Frank Sticker Collector's Set (3 Pack Set), $7, Amazon
My old Caboodle was covered in blindingly bright Lisa Frank stickers, so I'm glad to see they're still around. That horse's rainbow-mermaid hair is actually so on trend right now.
Recollections Alphabet Stickers, Rhinestone Letters, $5, Michaels
You'll definitely want to put your name or initials on your Caboodle to mark your territory, and if you can do something with rhinestones, why wouldn't you?
Emoji Jumbo Stickers, $4, Amazon
Lest we forget what era we're currently in, emoji stickers are the ideal way to bring your Caboodle into the 21st century. And if you end up spending more money on stickers than on the Caboodle itself, well, that's just the name of the game.