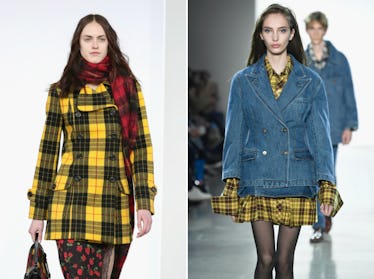 Cher Horowitz's Plaid 'Clueless' Outfit Has Been On Runways 9 Times & I'm Not Buggin'
JP Yim/Stringer/Frazer Harrison/StaffGetty Images/Getty Images Entertainment
I would describe high fashion as clueless quite rarely — bizarre, maybe, but not clueless. Yet that is the only word that comes to mind right now, because the Fall 2018 Fashion Week runways are overflowing with looks inspired by Cher Horowitz's Clueless outfit. Thanks to the fashion gods, the infamous yellow plaid ensemble is no longer a thing of the past.
Yellow plaid is nothing new, but not since the '90s (Halloween costumes omitted) has it been presented in such a way to trigger the wonderful memories of my favorite coming of age rom-com, Clueless. Cher and Dionne live on in the hearts of all true '90s kids, despite Stacey Dash's current political agenda. I still fantasize about Cher's computerized closet system. Such a thing probably exists in this day and age, but some things are more fun to nostalgically yearn for. My closet is also not even close to big enough to need something like that.
Aside from a closet organizer computer program, your wardrobe can still start to resemble Cher's more than ever. Designers from New York to Milan showed off Cher Horowitz-inspired looks on the runway and the world is loving it. Break out your banana hair clips, plastic zig-zag headbands, and study up on all the other '90s fashion trends because Cher is back, baby!
In case you forgot what Cher's outfit looked like (although I wouldn't admit to that if I were you), she wore a yellow plaid blazer and matching pleated skirt, with a white tank top and yellow cardigan layered underneath the jacket. Her bestie Dionne (they're best friends because they both know what it's like to have people be jealous of them) was also mad for plaid. Dionne's look was a black and white plaid jacket and skirt, a red cardigan underneath, and a black and white plastic top hat that I'm still confused about.
Look at the resemblance! Versace's look for the brand's Fall 2018 collection looks almost exactly like Cher's Spring 1995 outfit.
Is this Cher's outfit or the Versace look? I can't tell but I don't care because I love both.
Model Rianne Van Rompaey modeled the plaid-heavy look on the runway and for a Versace promo video, and with her long blonde hair I'm practically seeing double between her and Cher.
Versace had much more up their sleeve than that one Clueless look. The collection was covered in plaid, much of it that yellow plaid, including accessories.
Twitter obviously noticed the connection and also compared the look to Iggy Azalea's Fancy music video, where the rapper dressed up like Cher.
"Clueless at Versace 😍 😍 😍 #popculture #fashion," commented one user while admiring the cultural reference.
Versace wasn't the only brand to feature Clueless-inspired styles. Designer Sara Battaglia showed three Cher-like looks. This one look is particularly reminiscent of the '95 look. It includes high-waisted yellow plaid shorts and an updated take on Cher's blazer.
This look is more true to Cher with a pleated school-girl style skirt.
Battaglia's third Cher-worthy outfit was head to toe yellow plaid: Shirt, pants, belt, and coat. Maybe if Clueless took place somewhere colder than southern California Cher would have worn this instead of her mini skirt.
Matthew Adams Dolman combined Clueless' preppy style with the '90s' other big trend: Grunge. Dolman (Rihanna's a fan of his, by the way) took the iconic yellow plaid and made an oversized shirt dress, then added a fitted denim blazer on top.
Michael Kors used the sunny color for outerwear at his New York Fashion Week show. If Cher lived in New York City she def would have worn this coat, that faux fur collar is so her. Like Cher would never live anywhere where it gets colder than 60 degrees:
As if!
Cher's red plaid look from the movie is less remembered, but I'm seeing a true connection here.
And here.
Be yourself but more like Cher Horowitz — words to live by.