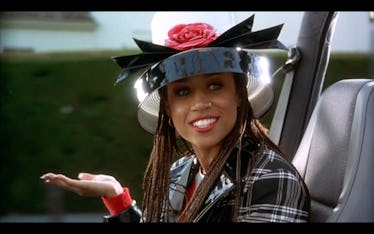 Dionne From 'Clueless' Is Running For Congress & Twitter Is Like, "As If!"
Say what you want about President Donald Trump, but one fact about this nation's leader is that he has certainly inspired the base of the conservative party to be more vocal about their agenda. Trump was a somewhat unlikely champion for the conservative movement, and this latest pursuit on Washington D.C. is questionable to say the least. News broke on Feb. 26 that Stacey Dash will run for Congress in the upcoming midterm election — and Twitter cannot stop cracking Clueless jokes.
You may recognize Dash from her role in the legendary 90s teen comedy Clueless, where she played leading character Cher's best friend, Dionne. It's probably the part that she's best known for, but the actress has been able to find work in the film and TV industry pretty consistently since the 1995 pop culture juggernaut.
And now it's looking like Dash wants to add congresswoman to her resume, as reports have begun swirling that the actress is considering a congressional bid come the 2018 midterm elections this November.
Dash has officially submitted the necessary paperwork and it was released on the Federal Election Commission's site on Feb. 26 to run in California's 44th district, Vanity Fair confirmed. Her candidacy has been filed as "Dash to DC" and she'll be running as a Republican seeking to be elected to the House of Representatives. The district that she's running in which encompasses Compton, Watts, San Pedro and North Long Beach, and is currently represented by Democrat Nanette Barragán. A website for her campaign bid has also been set up that features a large "Stacey Dash" logo and nothing else — but I'm sure we can expect a full version of the site to come up soon.
Considering that (as far as the public knows) Dash has no experience in the political realm, this news comes as a surprise.
And Twitter is not holding back on the Clueless jokes — because seriously, how can you not?
As if.
Let's be real, this report is a pretty hilarious one.
Especially considering the less-than-favorable placement of the word "clueless" in the headlines that imply that Dash is "clueless." The report may also come as quite a shock to people, especially given that the actress will be running on the GOP ticket. But if you know anything about how vocal Dash has been in recent years and how much of an outspoken conservative she is, this comes as no shock — and frankly it's a little frightening.
The actress has already played with the idea of running for office. In fact, on Feb. 9 she tweeted out that she has been getting a lot of questions about her running for office, and claimed that many were encouraging her to do so. She wrote, "A number of people online and off have suggested I run for political office. I wanted to see what my online community thinks of this idea as I mull the possibilities. Thoughts?"
The actress has touted herself as a "Hollywood conservative" and has a lot of problematic views that she projects to her fans. Not only does she think Al Gore is lying about climate change, she also doesn't think that Black History Month should be a thing and would eliminate channels like BET if she could. Back in January 2016 while appearing on Fox & Friends, Dash stated,
We have to make up our minds. Either we want to have segregation or integration. If we don't want segregation then we need to get rid of channels like BET and the BET Awards and the [NCAAP] Image Awards where you're only awarded if you're black. If it were the other way around, we'd be up in arms... It's a double standard. Just like there shouldn't be a black history month.
So yeah, this candidacy raises a lot of red flags. Although the district that she's running in a Democratic stronghold, there is no telling what can happen in this day's political age. At least she'll always have those hats.