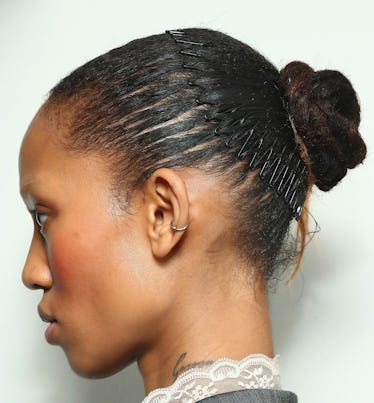 Spring's Hottest Hair Trends Are Giving Me Major Deja Vu & It's About Time
Astrid Stawiarz/Getty Images Entertainment/Getty Images
Butterfly clips. Scrunchies. Hairagami. Banana Clips. WOW, '90s and 2000s hair accessories were weird! And yes, I proudly championed them all as an avid watcher of Lizzie McGuire and reader of Teen Vogue. So naturally, I am all about the spring 2018 hair trends that have been hitting runways and sidewalks alike as of late, as they're bringing back some of my all-time favorite accessories. Claw clips and those stretchy zig-zag headbands are back, y'all, and I can't wait to get my grip on them.
I grew up dancing and my mom refused to do my hair for classes and performances, so I got really good at twisting my strands into creative monstrosities. Sometimes, up to five plastic butterflies, a pack of bobby pins, and countless twist-in hair gems would be involved because like I said, I was obsessed with Lizzie McGuire. (To remind you, she and her BFF Miranda used to appear on-screen with so much plastic in their hair it could rival Barbie's.) I had an entire basket filled with barrettes, scrunchies, bows, and hair ties to choose from, so needless to say, my look was never boring. For the days when I could not be bothered to battle synthetic insects, two accessories in particular — the zig-zag headband and claw clip — were there to ensure sleek, trendy, and brainlessly easy hair. I am so glad they're back.
The claw clip reappeared at New York Fashion Week earlier this month, when Alexander Wang, AKA the ultimate arbiter of cool, sent them down his Fall 2018 runway. Models including Kaia Gerber and Natalie Westling looked effortlessly cool with their slick uniform hair, which was raked back into a twist and secured with the toothy clamps. Paired with all-black looks that straddled reimagined workwear and '90s club attire, the style looked impossibly modern considering its decidedly nostalgic roots. "It's a cool way to put your hair up and not feel too lady," Guido Palau, the mastermind behind the style, told Vogue. While I used to leave a sprout of floppy hair cascading out from the top of the claw clip, Palau's new take on the look is much more modern.
The zig-zag headband, too, has found new life, thanks to Prabal Gurung and the coiffeur extraordinaire behind his runway beauty look, Anthony Turner. After being pulled back into the 360 degree comb, models' hair was then secured into a low messy bun, with wispies aplenty. The overall effect is both put together and effortless, sporty and chic. Paired with the pearl-studded ear cuffs and luxe velvet separates that were part of Gurung's sartorial offerings, the hairstyle proved to be surprisingly versatile.
Gigi Hadid walked in Gurung's show and it seems its beauty look rubbed off on her. She was spotted in New York last week rocking the stretchy zig-zag headband with a Fendi coat and matching bag, proving that it can transition from the catwalk to the street seamlessly. Sometimes, fashion week beauty looks are too outlandish to ever try IRL. This is not one of them.
I think the headband will become my hair accessory of choice, especially once warmer months hit. Unlike its rigid metal cousins, the stretchy zig-zag version doesn't cause headaches or trap stray hairs in its grasp, and actually does an excellent job of keeping your hair out of your face. And when you're three days into a week-long music festival with the greasiest roots of your life, it's one way to hide them if dry shampoo isn't readily available.
Clear Accordion Headband, $4.99, Claire's
I already checked if Claire's is stocking them (duh) and the answer is yes, but I'd recommend snagging yours soon, seeing as they're listed as "Low in Stock" on their website.