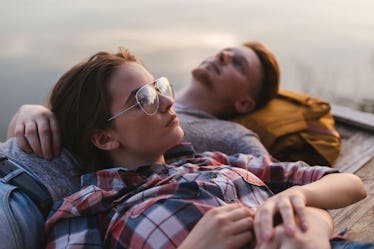 5 Things To Consider If You're Knowingly Dating Someone So Wrong For You, Yet SO Right
Considering that there are around 7.5 billion people in the world, it's safe to say that you have plenty of viable dating options. But there are lots of reasons why you still might date someone who, deep down, you know isn't a good match. Maybe you're blinded by physical attraction. Maybe you're hoping they will change. Maybe you're so terrified of being alone, that you'd rather be with the wrong person than be single. Dating someone who you know is wrong for you can obviously come with quite a few complications, some of which can actually cause some wear and tear on your emotional well-being. That said, who you date, why, and for how long is all up to you and you alone. So, if you've decided to keep pursuing a relationship with Mr. or Mrs. Wrong, then you may simply want to keep certain things in mind in order to maintain your sanity and sense of self.
The reality is, you don't really get to choose who you fall for — that's simply not how it works. So, if you've caught feelings for someone who you suspect isn't right for you, it makes sense why you'd still be eager to date them, anyway. You can't shut those feelings off. Fortunately, remembering the following things will help you to stay as realistic as possible about your situation, and moreover, continue looking out for your own well-being first and foremost.