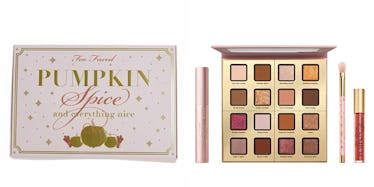 Put Down Your Pumpkin Spice Latte For A Sec & Peep Too Faced's Pumpkin Spice Makeup Collection
Thanks to society's obsession with Pumpkin Spice Lattes, you can now purchase just about anything that is PSL-themed — beauty products included. The latest pumpkin-related launch that you're absolutely going to want to add to your collection? Too Faced's Pumpkin Spice Collection, which is available now, exclusively on HSN.
The collection features a pumpkin-scented 16-pan eyeshadow palette, a full-size plush lipgloss in "Pumpkin Spice," an eyeshadow brush, and a full-size tube of the brand's best-selling Better Than Sex Mascara. What's almost as good as the palette's range of autumn-inspired eyeshadows is the fact that the full collection will only set you back $49. Please know that this is an absolute steal compared to what you would normally pay for each product individually, as well as the full retail value of all those items together ($103.57). A 16-pan eyeshadow palette by Too Faced would typically cost around $40, while a full-size Better Than Sex Mascara would cost you $24. Then, a full-size lipgloss retails for around $20 — you get the picture.
What's more is that HSN offers free shipping with the purchase of the collection. However, you should act fast if you want to spice up your beauty vanity with the purchase of Too Faced's Pumpkin Spice line. This is a limited-edition collection, so there's no telling how long it will be around for.
The star of the full collection is naturally the Pumpkin Spice Eyeshadow Palette, which actually smells like your go-to fall coffee drink, according to the brand. But of course, Too Faced is no stranger to creating amazing scented eyeshadow palettes. Their Tutti Frutti collection that smells sweet and — duh — fruity; their '90s palette smells like cake; and their Just Peachy palette smells of peaches.
In terms of the shades this palette is serving up, we've been blessed with 16 matte and metallic shadows in brown, pink, and orange hues, all with names that are just as festive as the shades themselves. Among the range of fall-related shadows, there's "Pumpkin Spice," a warm matte brown; "Fall in Fudge," a matte coffee brown; "Blushing Pumpkins," a metallic rose gold; and "Pretty as a Pumpkin," a matte pumpkin orange. The palette comes complete with a mirror and Teddy Bear Hair Eyeshadow Brush for easy application, as well as a "get the look" guide that explains all of the ways you can create the perfect fall smoky eye.
The Pumpkin Spice Ultra Plush Lipgloss is a long-lasting lippie in a burnt orange shade that perfectly complements the brownish-orange ~lewks~ you can create using the Pumpkin Spice palette. After learning about the new Pumpkin Spice Lip Gloss, I can't help but wonder whether or not the gloss tastes like a pumpkin spice donut, like how Too Faced's Gingerbread Melted Lipsticks tastes like a gingerbread cookie?
Rounding out the collection is the brand's best-selling, full-size Better Than Sex Mascara, which adds a boost of dramatic, voluminous lashes to any eye makeup look. And when paired with all things pumpkin spice, at a very affordable price, this collection really does shape up to be better than sex.
So if you've moved on from trying all of the pumpkin spice food and drink out there and you're looking to infuse your beauty routine with pumpkin, cinnamon, and nutmeg, be sure to snatch up Too Faced's Pumpkin Spice Collection exclusively at HSN before it's sold out.