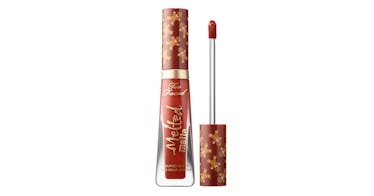 Too Faced's Gingerbread-Flavored Lip Color Will Leave Everyone You Kiss Smelling Festive AF
Building gingerbread houses and baking gingerbread men (and women) is a delicious, highly-caloric holiday tradition. But enjoying the wonderfully sweet and spicy flavor profile of said cookies is no longer restricted to consumption and construction, because a limited-edition beauty product is back in stock. I'm here to tell you where to buy Too Faced's Gingerbread Melted Lipstick and enjoy the irresistible scent all season long.
Too Faced's gingerbread-flavored liquid lipstick was first released a few months ago, and, predictably, flew off the shelves (real and virtual). Sephora is still sold out of the five-star rated item, and so is Amazon, but the Too Faced website is keeping me from falling into a deep depression because the seasonal lipstick is in stock again (and already in my shopping cart).
Sephora does have the flavorful lipstick in stock in many of their stores, so at the risk of being punished by the Cyber Monday guards, you could theoretically go to a brick-and-mortar store to get it. That involves interacting with other humans, though, so I understand if you are wary. Too Faced also sympathizes, which is why they have the limited edition lipstick available on the website for $21. I suggest you move quickly, though, because it has a tendency to sell out in mere days.
Since gingerbread liquid lipstick sounds like a lot to unpack, and you're likely taxed from returning to work/school today, let me break it down for you.
Is Lipstick A Carb?
Melted Matte Gingerbread Liquid Lipstick, $21, Too Faced
Remember how I said the lipstick is flavorful? That's because not only is it gingerbread-scented, but gingerbread-flavored, as well. I don't suggest literally snacking on the product, but if you accidentally get a little extra on your tongue, you can rest easy because the cookie-flavored lipstick is actually gluten-free. What a time to be alive.
I can't swear it's carb-free (is lipstick a carb?), but along with it being gluten-free, the glossy product also has none of those pesky parabens that can cause health problems. And more yet, it's also cruelty-free, which means no furry little animals were harmed in its making.
Like this little guy. So you can keep living your best, guilt-free life.
What Even Is a Liquid Lipstick?
Melted Matte Gingerbread Liquid Lipstick, $21, Too Faced
The liquid lipstick is a delicious, spicy shade of orange-red with a hint of cocoa brown. A quick refresher course on what exactly liquid lipstick is, because it looks awfully similar to lip gloss, doesn't it? It's typically matte, which means it's not particularly shiny, and it's applied like a lipgloss but doesn't have the stickiness that a shiny gloss usually does. Oh, and it doesn't require lip liner like a typical lipstick would, because the formula is a bit thicker and can create edges on its own. This particular variety omits the often waxy flavor of a traditional lipstick, due to the gingerbread flavoring. Basically, it's the best of all possible worlds.
Since Too Faced is with the program, the brand provided images of what Gingerbread Melted Lipstick looks like on a few different skin tones. It looks stunning on all three, IMHO, so don't be surprised if you and your friends show up to a holiday party wearing matching lipstick. Oh, the horror.
The People Have Spoken
Many limited-edition cosmetics are only sold for a short period of time, but it's no wonder that Too Faced is re-introducing this hunger-inducing, festive AF product. Aside from being perfect for the holidays, customers were taking to Twitter to proclaim their excitement.
Beauty news Twitter user TrendMood put the word out about the exciting release back in September. The emojis speak for themselves, "🙀" and "❄️✨😍💄."
Another customer tweeted, "Been after an autumn lipstick for ages and I've finally found one of @TooFaced 😍 the gingerbread matte lipstick is to die for😍😱"
OK I thought the bottle cap with the gingerbread men on it was cute, but look at that box! It's almost too cute to open. Almost.
People were not happy when it was sold out.
I sympathize. The struggle is Too Real.
But it's back: Too Faced heard your cries and the lipstick can be all yours for $21. Buy it here and leave everyone you snog smelling of holiday cookies (the gift that keeps on giving).