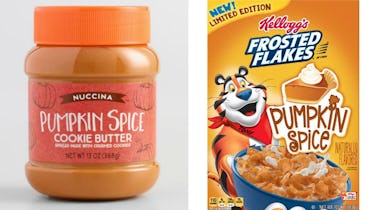 12 Pumpkin Spice Foods You Never Knew Existed, But Really Should
Rejoice! It's officially pumpkin spice season. The Pumpkin Spice Lattes are back at Starbucks, and all is right in the world. Now, you can finally fulfill that festive foodie feeling you've been dealing with since last year. If you're a PSL fanatic who wants to make the most of this time of year, you're down to try everything that features the beloved pumpkin spice flavor. That means even the pumpkin spice foods you never knew existed before.
Nowadays, it seems like everyone is jumping on the pumpkin bandwagon. You thought the craze stopped at pastry items and beverages. Nope! It's not just a latte game anymore. When I say there's pumpkin spice everything, I mean pretty much anything you can think of comes in pumpkin flavor. You can have pumpkin spice for breakfast, lunch, dinner, and every snack in between. Think of a food you love, and now imagine there's a PSL version of it. (Try not to swoon.)
Even though pumpkin spice is currently taking over the shelves in your local supermarket, it's not here to stay. So, for all of those PSL lovers out there, you'll want to try these 12 pumpkin spice foods before they're gone. Make it your fall mission to have pumpkin everything, and that'll definitely give you pumpkin to talk about until next autumn.