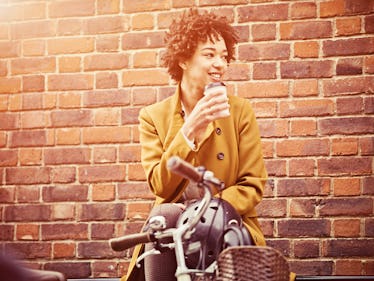 30 Pumpkin Spice Puns For When Sip Happens This Fall
Pumpkin spice and everything nice. That's what's on the menu this time of year. As soon as the air gets even a little bit crisp outside, you're putting on your favorite sweater and craving pumpkin-flavored everything. The first thing on your morning agenda is getting to Starbucks, ordering the PSL you've been missing all year long, and getting a sippin' selfie for the 'Gram. When you want to post, you'll need some pumpkin spice puns for your Instagram caption.
Just like everyone loves pumpkin spice everything, you have to admit that you love a good pun. Sure, they can make you roll your eyes at first, but then you'll be laughing yourself into a like. That's why puns make the best Instagram captions, so seize the PSL days ahead, and snap all the selfies with your favorite drink that you can.
The pumpkin spice craze isn't here forever, and you probably don't even want to take your hands off your drink for too long to post. To make it easier, here are 30 pumpkin spice puns to use that will definitely give your friends pumpkin to talk about.
1. "I love pumpkin spice a latte."
2. "Pumpkin spice and chill."
3. "Let's give 'em pumpkin to talk about."
4. "My PSL is a cutie pie."
5. "I've fallen for this pumpkin spice."
6. "Pumpkin spice and everything nice."
7. "Let's spice things up."
8. "I know a latte bad pumpkin spice puns."
9. "Just brew it."
10. "Sorry I'm latte. I had to get my pumpkin spice."
11. "When it's not pumpkin spice latte season, I'm depresso."
12. "Don't even chai to talk to me until I've had my pumpkin spice latte."
13. "I only have pies for you for pumpkin spice."
14. "Pie love spending time with you."
15. "Unless it's pumpkin spice, I don't give a frapp."
16. "You are so brewtiful to me."
17. "It's a frappe day when I have my pumpkin spice latte."
18. "My PSL and I are squash goals."
19. "Oh my gourd, I love pumpkin spice."
20. "Life is gourd when you have a pumpkin spice to sip."
21. "Sometimes, sip happens."
22. "Sip, sip, hooray!"
23. "My PSL is gourdgeous."
24. "Basic witches drink pumpkin spice lattes."
25. "Sip me baby one more time."
26. "Call me a hipster, because I sipped my PSL before it was cool."
27. "You can't sip with us."
28. "This is me getting my sip together."
29. "I don't give a sip."
30. "When I sip, you sip, we sip."
This article was originally published on