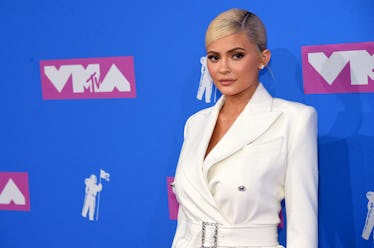 Yas, Witch! The Kylie Cosmetics Halloween 2018 Collection Has Been Revealed, & It's Scary Good
Jamie McCarthy/Getty Images Entertainment/Getty Images
To be honest, Kylie Jenner has never struck me as a full-on Halloween kind of girl. To me, she's always seemed like the kind of girl who opts for cute costumes, not scary ones, every single year. But no judgment here, because I do, too. This did make me skeptical of Jenner's just-announced Halloween-inspired makeup collection, though, so when she finally took to her Instagram Stories and Snapchat to reveal it, I was more than curious to see what she'd come up with. If you're wondering what's in the Kylie Cosmetics Halloween 2018 Collection, allow me to first hit you with this spoiler alert: IMHO, it's got what has to be her most creative eyeshadow palette yet, among other great products as well.
As usual, Jenner took to her personal social media platforms to reveal the newest Kylie Cosmetics collection, and after the successes of her most recent drops, including the very recent Kylie x Jordan collection, it's no surprise fans were pumped. Before I even saw the new products, I knew right away the collection would likely be "Halloween-themed" given the shade names and packaging. Of course, Jenner isn't about to put her name on packets of fake blood or faux vampire teeth, and I respect that. Where she did surprise me, though, was with how good said packaging would actually be.
I was expecting lots of orange, so the whole purple, green, and black combination is super interesting. I approve, Kylie!
But wait, there's more! On her Story, Jenner holds up a pair of paper 3D glasses and tells her followers that some of the packaging is actually 3D. She didn't have to do that to get our interest, but she totally did, and I respect that kind of next-level thinking!
I won't start off with that incredible eyeshadow palette I hinted at earlier, because I'm trying to build suspense. (It is a Halloween collection, after all!) Instead, let's start with the only other eye product in the collection: the Glitter Eyes liquid eyeshadows.
Packaged in purple unicartons with metallic green spiderwebs, the Glitter Eyes come in two shades:
"Witch and Famous" is a metallic, copper-y orange, and "Hello Ghordeous" is a metallic yellow gold:
There's that orange I was expecting to see in this collection! Moving on from eyes to face products, Jenner is dropping a single highlighter for this collection, so you better believe it's got to be a shade that packs a punch.
Packaged in black with little ghosts flying around, the shade "Ghost Me" is an icy silver-gold highlighter, housed in a black compact with a mirror:
At first glance, the swatch is pretty pigmented and a little intimidating, but on Jenner's cheeks, it looks stunning, not spooky:
Circling back to the eyes, it's time I stopped teasing you and let you see the palette for itself. Personally, I love it because the color story isn't traditional or boring, but at the same time, it's still super wearable.
Plus, the mummy take on the signature Kylie eyes packaging is just too good:
The shade names are as clever as the swatches are stunning, from "Bat Sh*t Crazy" to "Hex On My Ex." Yassss, witch!
Completing the collection are three kinds of lip products, and *gasp* the biggest trick in this trick-or-treat-themed collection is that there's only one of Kylie's signature Liquid Lipsticks.
Fortunately the "Bite Me" Liquid Lipstick is so good that I'm not upset. This is definitely the perfect vampire kween lip, if you ask me:
And if you want a little sparkle on top? Pairing it with the Spooky Glitter Gloss in "Handsome Devil" would be a cool combination. Bonus points for that 3-D skeleton packaging:
What else could there be, you ask? Not one, not two, but four bullet lipsticks. You heard that right! One for you and everyone you're going trick-or-treating with. Unless you decide to skip that activity and stay in and play with this collection instead. That's probably what I'll be doing.
The lipsticks are packaged in black unicartons bearing the signature Kylie lips — except this pout actually has 3-D vampire teeth, so watch out:
There are two mattes and two metallics, and upon first glance, I've got about a million costume ideas that could pair well with each of these shades:
"Creep It Real" is a gorgeous, matte, cool-toned nude for those of us going the sweet-not-spooky route when it comes to our Halloween lewks. If you're going full jack-o'-lantern, though, you definitely need metallic orange shade "Haunt It." Vampy, matte purple "Spider Bite" might give the "Bite Me" Liquid Lipstick a run for its money when it comes to the best vampire kween lipstick shade. And finally, metallic green "Monster" would be a cool touch to an army costume, or ideal for if you're going as a monster, obviously.
I love this collection, and clearly, Kylie is as proud as I am impressed:
If you're dying to get this collection before Halloween, it drops on the Kylie Cosmetics website on Oct. 12. All in all, it's clear Jenner really put her heart and soul into this drop, and she's convinced me that she is, in fact, a Halloween Queen. Good for you, girl! Stay spooky!