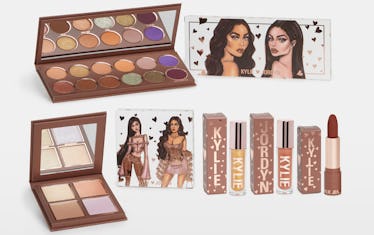 The Kylie x Jordyn Collection From Kylie Cosmetics Finally Dropped & It's Def Your New BFF
Another day, another drop from Kylie Cosmetics that I take my credit card out for so fast, I give myself whiplash. After much anticipation, makeup mogul Kylie Jenner finally announced an official beauty collaboration with her BFF Jordyn Woods for her eponymous cosmetics line. And now, the long-awaited Kylie x Jordyn Collection for Kylie Cosmetics is officially here. Cue the screams of beauty and Kardashian-Jenner lovers (read: mostly me) everywhere.
The Kylie x Jordyn Collection ($124 for the bundle, Kylie Cosmetics) features an eye palette, a face palette, and three adorable lip products, all of which will totally perfect your (and your BFF's) beat. Look, I'm not saying that this is one of the cutest collections Kylie Cosmetics has ever offered, but if you silence everything in your life and listen very, very closely, you'll probably hear me whispering, "This is one of the cutest collections Kylie Cosmetics has ever offered," in the distance.
The 12-pan eyeshadow palette ($45, Kylie Cosmetics) boasts an even mix of shimmers and mattes, as well as softer brown and nude tones and brighter hues, like purples and greens. And with shade names like "Love You B*tch," "Ride Or Die," and "Don't Ever Leave Me," I'd say this palette is, like, the ultimate profession of love to your BFF. (Or, you know, what I tell anyone who gives me the slightest bit of attention, just saying.)
The highlighter palette ($40, Kylie Cosmetics) includes four super reflective shades with lighter gold, champagne, darker gold, and lavender finishes. Fittingly named "No New Friends," "Inseparable," "Best Life," and "Together Forever," I can't tell if these describe my relationship with my BFF or my relationship with this collection. TBD.
OK, so, you didn't think Kylie and Jordyn would leave your lips untouched, did you? Their collection also features two new glosses ($16 each, Kylie Cosmetics), named "23" (a sheer, gold shimmer gloss) and "Partner In Crime" (a pinky nude gloss) to keep your lips brighter than any star in the sky. And finally, rounding out the whole collection is a warm-toned, reddish pink matte lipstick ($17, Kylie Cosmetics) in the shade "WOODS," which I already know will be my new fave everyday lip.
I'd be lying if I said half my obsession with this collection didn't lie in the packaging alone. The overall packaging showcases adorable cartoon drawings of Kylie and Jordyn themselves looking very similar to the cool-girl Bratz dolls I always wanted.
Courtesy of Kylie Cosmetics
Courtesy of Kylie Cosmetics
Now, like all of Kylie's themed collections, I anticipate this set will sell out pretty damn fast. (Curse the teens and their thumbs that move even faster than I, someone who literally works on the internet, can handle.) For now, the collection is available for purchase on KylieCosmetics.com only. However, Kylie recently announced that Kylie Cosmetics would be making its way into Ulta Beauty stores sometime around the holidays. That said, let's hope she brings this and all her other previously-sold-out collections to Ulta along with all her other products, so we can all see, swatch, and buy IRL.