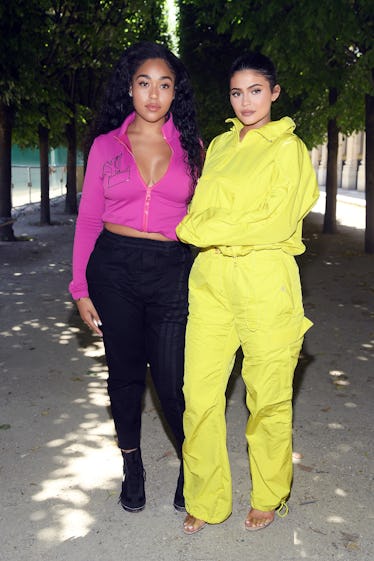 Kylie Jenner & Jordyn Woods Teased New Photos Of Their Makeup Collab & I Need It All
Pascal Le Segretain/Getty Images Entertainment/Getty Images
When you're BFFs with Kylie Jenner, not only do you probably get all of the free Kylie Cosmetics you could dream of, but you also apparently get to design your own palette. The duo announced a partnership and I'm just wondering, what's in Kylie Cosmetics x Jordyn Woods' makeup collab? Finally, there are some new photos.
The Kylie Cosmetics Jordyn Woods collab bombshell was first dropped by Woods herself. "Kylie and I have a makeup collaboration coming out soon. We've wanted to do this since her company first launched; we've been working on it for years!" said Woods to The Hollywood Reporter. This collection has been years in the making, which means that it's going to be so good.
Woods already has her own dedicated Kylie Cosmetics product, the Jordy Velvet Lip Kit ($27; kyliecosmetics.com), but I bet this new collaboration will include so much more than that. Jenner has always been big on lip products but she's also gotten really into eyeshadow palettes lately – perhaps that's what she and woods are cooking up? Jenner also recently confirmed she's working on a new Kylie Cosmetics blush, so maybe that's a part of it too. So many possibilities!
The besties have been tight-lipped about what exactly is in their collection but Jenner did just confirm that it's coming out in a matter of weeks, and dropped a photo of herself wearing the new goodies, so at least there are a few answers about what it's all going to look like. Can I get an amen?
"Just wrapped shooting my new collection with @jordynwoods dropping next month 💕 can't wait for u guys to see this!" posted Jenner. The 21 year old wore a white bra top and bubblegum pink patent leather pants, which would normally be a photo focal point, but look at that eyeshadow! The holographic sparkle at her inner eye is unreal. There's a bright pink hue happening, too. It's so pretty, I cry.
The eyeshadow has some definitive sunset makeup trend vibes to it. I spy pink, purple, turquoise, gold, and I can't handle how pretty it all is.
Jenner posted multiple pictures of herself in the bathroom after wrapping up their product photoshoot. The besties must have had their own secondary selfie shoot and I'm not mad about it.
Woods posted a selfie, as well, showing off her purple-hued eyeshadow look. Her vibe her is a little darker than Jenner's pink lids, showcasing the versatility of their supposed palette.
"Straight facts. Our gloss is addicting. @kyliecosmetics coming soon," teased Woods. This post is a screenshot of one of Jenner's Instagrams which has since been deleted, but the internet never forgets, and now I know that there's also a lip gloss! It's hard to tell if it's just the lighting of the photo or not, but Jenner's lips look to have an iridescent sheen to them, so here's hoping that's from the upcoming gloss.
Confirmed via Kylie Cosmetics Instagram stories, the collab is coming out in September, which is technically only days away, so expect this major drop any day now.
Kisses!