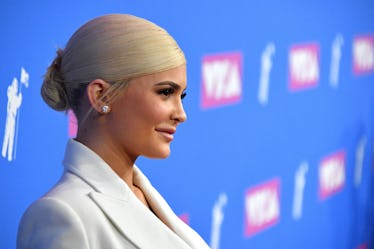 Yes, Kylie Cosmetics Is Coming To Ulta Stores Soon, So There Goes All My Money
Dia Dipasupil/Getty Images Entertainment/Getty Images
Out of all the Kardashians today, it's Kylie Jenner with the big news that's bound to break the Internet. The almost-billionaire has taken to Twitter to make a very special announcement: Kylie Cosmetics is coming to Ulta Beauty. Remember when Kylie announced her pregnancy on Super Bowl Sunday, and the news completely overshadowed the game? Your Labor Day partying shenanigans are no longer important to me, because nothing any of us possibly post could be as exciting as this news.
So, how did we get lucky enough for Ms. Jenner to share this little tidbit with us? TBH, it's unclear. Based on her Twitter feed and other social media activity, it's as if she made the announcement completely at random, with no previous posts hinting at any major news coming our way. On Aug. 30, 2018, Jenner tweeted out a warning for her fans to start making their Christmas lists early, breaking the news that they'd be able to shop her brand, Kylie Cosmetics, in Ulta stores just in time for the holiday season.
An hour after the tweet was posted, it had already racked up over 28,000 favorites and counting, so it's safe to say her audience was pleased.
While so many beauty-lovers are devout fans of her brand, there are some people who just can't get on board with online shopping for makeup, and can't justify shelling out cash for products they've never swatched, smelled or played with. Stores like Sephora and Ulta aren't just convenient for buying makeup, but they're equally helpful in terms of allowing people to discover new makeup by experiencing products first-hand, IRL. Kylie Cosmetics has received some pretty positive reviews over the years, but that's not enough to convince everyone they'll be happy placing an almost-blind purchase. Now, picky shoppers and must-swatch-ers can rejoice. Come winter, they'll be able to put Kylie Cosmetics to the test at their local Ultas.
TBH, pretty much everyone is excited about this news. It's as if Jenner gave us our first Kylie Cosmetics Christmas gift a few months in advance:
Even with all the celebrating, there are still a ton of questions in regard to this big news. Will the line live in Ulta permanently, or will only certain products be available as part of a temporary holiday promotion? How soon, exactly, will the brand be hitting the shelves, and will it be in all Ulta locations? Many fans are also wondering whether this will be just the first of in-store moves made by the brand — Jenner has already hinted at brick-and-mortar Kylie Cosmetics stores in the future, and international fans have been begging for the brand to hit their beauty shops for like, ever.
Personally, I've got high hopes that the entire Kylie Cosmetics range will be in stores, not just specific holiday releases. Her classic Matte Lip Kit in "Exposed" ($29, kyliecosmetics.com) is still one of my ride-or-die fall favorites, and her Skin Concealer ($20, kyliecosmetics.com), available in 30 shades, has already become a quick favorite for many, rivaling top competitors like the Tarte Shape Tape Contour Concealer ($27, tartecosmetics.com). Whether you love or hate Kylie Cosmetics, you can't deny that her business is flourishing beyond expectation, and that her products are, in fact, pretty damn good!
Are you getting excited? I'm getting excited.
Congrats to Kylie Jenner on starting what has grown to become an Ulta-worthy beauty brand, and fingers crossed she's already started on her 2018 holiday collection, because now that I'm going to be able to swatch it in stores, it better be major. TBH, I'm already pretty positive that it will be.